Shaker Vs Flat Panel Cabinets
Cabinets have always created a stunning backdrop for the kitchen. Be it a vintage-style shaker cabinet or a more modern flat panel cabinet, we can hide all the mess of the kitchen inside them. But which cabinet is more convenient to install and use?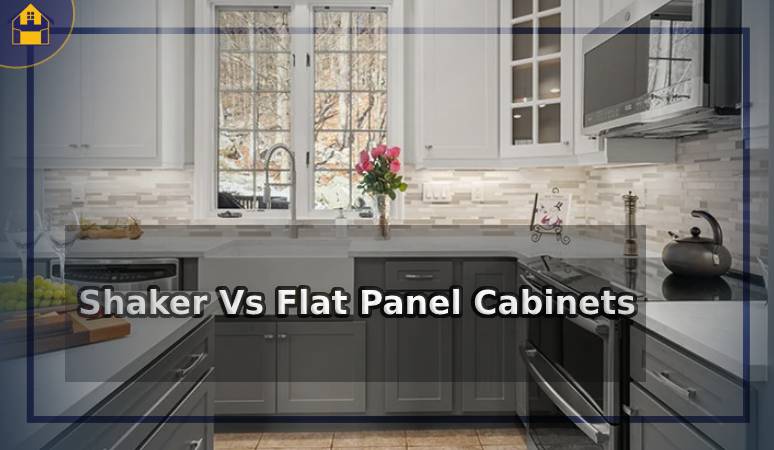 And what is the difference between flat panel and shaker cabinets? The main difference between shaker cabinets and flat panel cabinets is the overall aesthetics. Shaker cabinets have a retro look to them, while flat panel cabinets give a more modern vibe with greater simplicity.
Whatever we choose for our kitchens, we should pick it not only based on how it looks but also on how it adds value to the interior. Let's explore the differences between these two cabinets in this guide.
What Is a Shaker Cabinet?
Shaker cabinets consist of five main parts. These are the recessed center panel, two rails on the top and the bottom, and two stiles on both sides. As a result, the cabinet panels get a special trim with a uniform border on all sides. The center is recessed to make those rectangular lines more prominent and lift the sides with an unmatched beauty. 
Due to the higher sides, shaker cabinets usually divide the whole cabinetry into smaller rectangles to create a sense of abundance. Shaker cabinets have been giving a luxury feel to your kitchen for some good decades.
What Is a Flat Panel Cabinet?
Flat panel cabinets are the latest addition to the interior of a kitchen. In most modern kitchens, flat panel cabinets are very popular to give a seamless look. In these cabinets, the whole door panel is made of a single panel without any special trim on the sides.
As a result, these cabinets look sleek and modern to be the most favorite in this century. 
Shaker Vs Flat Panel Cabinets: A Comparative Discussion
It isn't easy to choose one over another unless you know the core differences between these two cabinets. Here will be a detailed comparison of these cabinets. Check it out.
Aesthetics
The main difference you will notice between these cabinets is in their overall aesthetics. Shaker cabinets have a recessed panel in the center, which gives a vintage look. But flat panel cabinets are much simpler and sleeker with a modern look to them.
As a result, flat panel cabinets are highly popular among young generations. But are shaker cabinets going out of style? No, you can easily bring variation to the look of shaker cabinets by adding different handles or knobs to them.
Installation and Maintenance
Making shaker cabinets and installing them is a bit difficult due to the recessed part. You will need more material to make shaker cabinets compared to flat panel cabinets, which will also be costly.
But flat panel cabinets of the same size will require less material to build. And installing them is easier than shaker cabinets. When it comes to maintenance, shaker cabinets are not as easy to clean as flat panel cabinets.
As there are ridges in shaker cabinets, it can be difficult to reach the crevices. But on flat panel cabinets, you can easily clean the door panels. 
Hardware Placement
Due to the trims on the sides, you might face some trouble while installing knobs or pulls on shaker cabinets. If it is a cabinet door, you must need to install the handle or knob in a tight space. And if it is a cabinet drawer, you have even a smaller space to install the hardware.
But in the case of flat panel cabinets, you can easily tweak the placement to install the hardware in a convenient place. And any hardware will look much better on flat panel cabinets due to the high contrast with the simplicity of the panel.
Durability
This depends on the material you use to build the cabinet. Previously, recessed panels were made of natural wood. As a result, those cabinets used to hold their look for a long time. But most flat panel cabinets now are made of composite material, which is less durable.
You can increase the durability of your cabinets by choosing a good material and a good finish.
Cost
Shaker cabinet panels need more material; they will be costlier than flat panel cabinets. You also need to spend more on the installation process. But flat panel cabinets require a lot less material. So, the cost will be effectively reduced if you use these panels to build kitchen cabinets. 
Which Is Better Between Shaker Vs Flat Panel Cabinets?
As this goes down to one's personal preference, giving a substantial verdict might be wrong. You better consider your requirements to choose the right cabinet panel.
If you love the vintage look of a kitchen cabinet, you can go for shaker cabinets. You can bring a bit of variety if you know where to put handles on shaker cabinets. But if you love modern styles, flat panel cabinets should be your top choice.
You should also consider the available space in the kitchen and your budget before setting up a cabinet. Shaker cabinet panels might be slightly higher than flat panels when installed on the frame. Flat panels are usually thinner and take less space. So, they will be suitable for smaller kitchens with tight spaces.
Final Words
Shaker cabinets have come a long way and portrayed beauty and luxury all the way. This is why they are still in style with a lot of variations. And flat panel cabinets are winning young minds with their simple and modern look combined with the ultimate convenience.
So, choosing between the shaker and flat panel cabinets becomes difficult. In this guide, we tried to present the difference between these two panels and help you choose the right one for your kitchen. 
Spend time to figure out what you like and need in your kitchen. And then choose a cabinet panel to create the desired interior.