Should You Sand After Staining? Know Before You Do
In preparation for staining, wood surfaces need to be sanded well. Sanding removes the roughness from the wood surface. However, there are specific rules for sanding to make the final surface look the best. 
But should you sand after staining? You can sand a surface after staining, but that should only be between coats. After the final staining, you should never sand a surface.
I will share all my professional experience to explain the ideal sanding process after staining. Let's get started.
Should You Sand After Staining? Why or Why Not?
No, you should not. Because once you apply a coat of wood stain, it covers the wood surface. If you sand the surface after staining, a thin layer of the stain will be removed from the surface. And it will expose the original surface, ruining the hard work done to stain the wood.
In most cases, you need to apply at least two coats of stain to finish the project. Even though you sand the wood surface before the first coat, sanding can sometimes be necessary before the second coat. In such cases, there is no problem with sanding the surface.
Remember, you need to allow the first coat to dry for a few hours. If you notice any swells or inconsistencies on the surface, you can sand the surface. And when the final coat of stain is applied, you should never touch the surface with sandpaper or an electrical sander.
Should I Sand Before Staining? What Is the Process?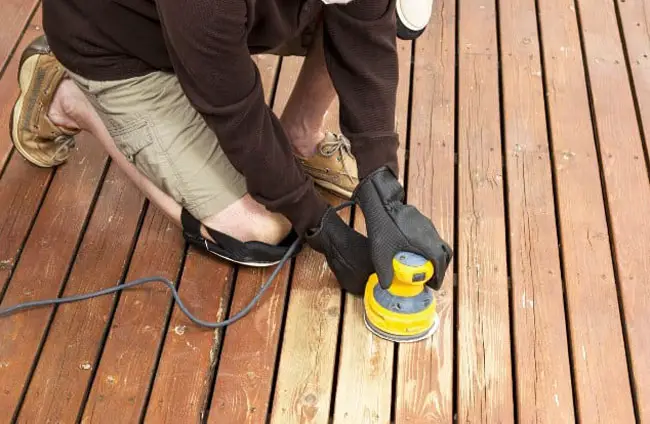 Yes, absolutely. You must sand the wood surface before staining, regardless of what type of stain you use. I will describe the process here so that you can follow along.
Step 1: Take 180-grit sandpaper and sand the wood surface thoroughly. If you use cheap wood, they might need a lot of sanding. But expensive boards will need less sanding.
Step 2: Once the full surface is sanded, remove the dust using a vacuum cleaner. Then, wipe off the dust with a clean rag.
Step 3: Take 220-grit sandpaper and sand the surface once again. The second phase of sanding will increase the smoothness of the surface.
Step 4: After sanding, clean the surface by following step 2. Make sure the surface is fully cleaned before staining.
What Type of Stain Needs Between Coats?
A few types of stains are commonly used in woodworking. They are oil-based stains, water-based stains, and gel stains. Among these, oil-based and gel stains are much thicker than water-based stains. When you apply an oil-based or gel stain on wood surfaces, they don't penetrate the surface. 
Instead, they sit on the surface and don't cause any swelling of wood grains. So, sanding after an oil-based stain or gel stain isn't necessary. If you sand the surface between coats of oil-based or gel stain, you run the risk of removing stains from the surface.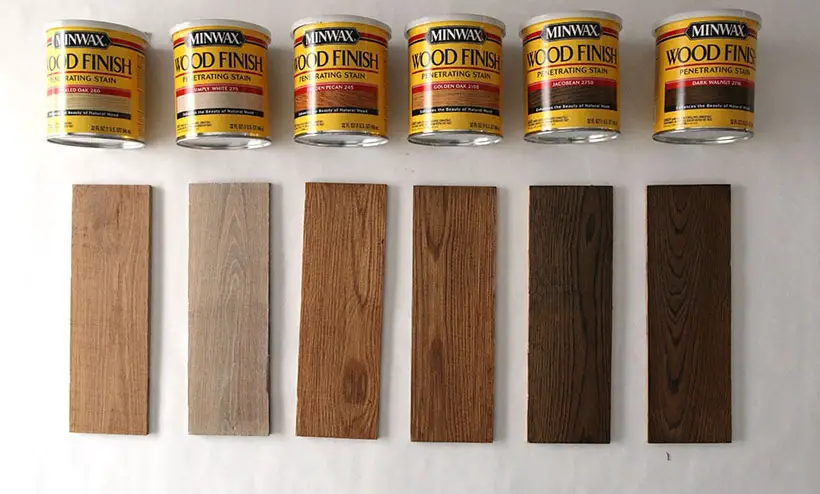 However, if you want to lighten the coat, sanding after staining to lighten the stain is a good idea. But if you use water-based stains, they penetrate the surface and get soaked. As a result, wood grains can rise after the first coat. This is when you need to sand the surface to smoothen it out. 
In fact, you need to sand after every coat of water-based stain except the final coat. So, the choice of stain is important to consider while sanding wood surfaces. 
Sanding Stained Wood: Step-by-Step Process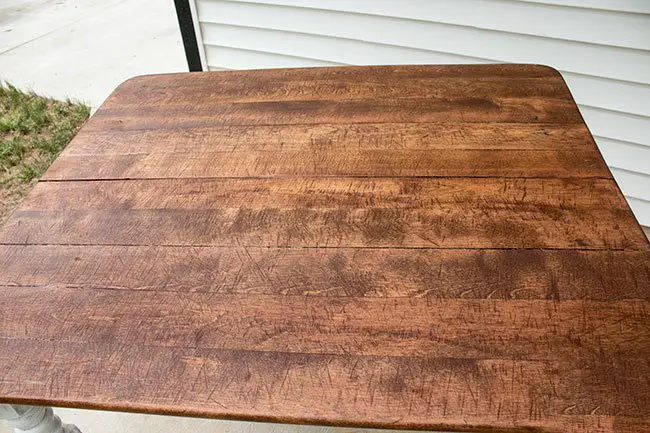 If you use water-based stains, sanding between coats is necessary. And here are the steps for sanding between coats.
Step 1: Once the wood surface is stained, wait for a few hours for the stain to dry completely. It can take about 6-10 hours for the stain to dry.
Step 2: Take 220/240-grit sandpaper and lightly sand the imperfections on the surface.
Step 3: Use a damp cloth to remove the dust from the surface.
Step 4: Sand one more time if necessary. Then, thoroughly clean the surface before applying the next coat of stain.
How to Smooth Wood After Staining?
If the imperfections are due to the wrong application of stain, you can wipe off the excess stain. But if there is a problem with the wood texture or grains, you may need to sand the surface to smoothen it.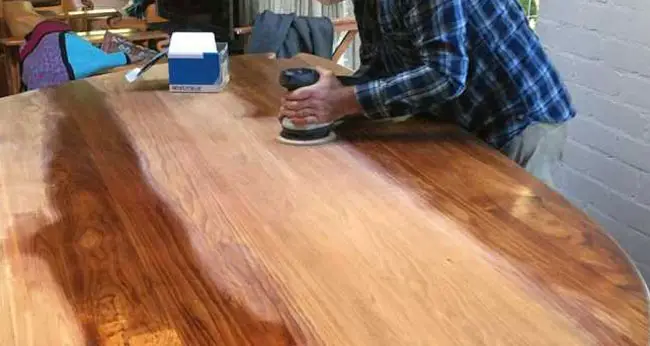 If you're wondering about the importance of sanding after staining and need insights into achieving the best finish, our article on
can you stain wood in cold weather
might provide guidance when considering staining projects during colder temperatures. Additionally, if you're looking to achieve an antique look by staining over paint, our guide on
stain over paint for antique look
considerations is here to offer insights. We understand the importance of achieving the best finishes and addressing specific application techniques, and our comprehensive resources are designed to help you navigate and make informed choices for your woodworking projects.
FAQs
You should know the answers to some commonly asked questions related to sanding wood surfaces after staining. Here you go.
Q: Do you sand after polyurethane?
A: If you apply polyurethane after the first or second coat to protect the stain, you can sand the surface without any problems. But you shouldn't sand applying polyurethane after the final coat.
Q: Can you sand stained wood and restain?
A: Yes, you can. If you sand a wood surface that has final coats of stain, sanding will remove some of the stains. And you need to restain the surface to bring that stained look.
Q: How many coats of stain a wood surface needs after sanding?
A: After sanding a wood surface, it needs at least one coat of stain. For example, sanding the surface after the first coat will need a second coat. And if you sanded it after the second coat, it would need a third coat.
Final Thoughts
Staining a wood surface requires attention to detail for a flawless outcome. And sanding is a big part of the process. So, you need to handle sanding very carefully. A common mistake in woodworking is sanding surfaces after staining.
I clarified whether you should sand after staining a wood surface or not. The best way is to sand before staining. And if you use water-based stains, sanding between coats is also allowed. But no sanding should be done after the final coat.