8 Best Floating Shelf Brackets Reviews – Updated 2022
Floating shelves have always been a good way to spice up your home interiors. However, what takes more effort to pick out is the right bracket to hold your shelf. The brackets are the tools that bear the entire weight of the shelf and whatever you place on it.
There are various kinds of shelf brackets out in the market, each with its own distinct design. The build quality also matters as it determines how much weight your shelf will be able to hold.
Luckily for you,  we took the trouble of finding 8 of the best floating shelf brackets in the market. Let's check them out!
How Much Weight Can A Floating Shelf Hold?
The total load capacity of a floating shelf depends on a wide range of factors such as build quality and design. The average shelf bracket holds somewhere around 10 to 30 kilograms.
These can either be made from wood or stainless steel. You have to be careful with wooden brackets because exceeding the weight capacity might cause the bracket to snap. In the case of steel brackets, the excess load might cause the bracket to bend downwards. As a result, your shelf might slant towards the ground, making it unusable.
In addition, there are other specialized hidden brackets that are designed to hold over 100 kilograms. In most cases, the heavy-duty floating shelf brackets are constructed from premium grade aluminum which gives them extra strength and durability. When paired with a triangular design as opposed to the common L shape, the load capacity increases tremendously.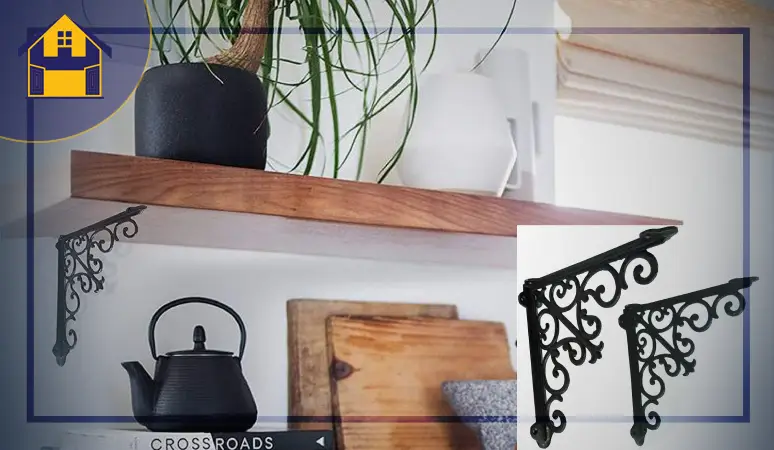 8 Best Floating Shelf Bracket Reviews
We have put in hours into our research to bring you the top 8 floating shelf brackets in the market. Let's check them out!
1. YUMORE Folding Shelf Brackets 12 Inch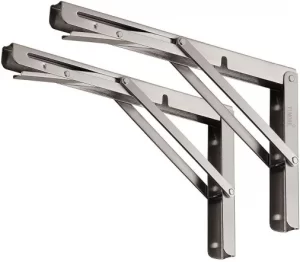 Our first pick for today is this 12-inch foldable shelf bracket from YUMORE. If you're looking to install shelves that can be folded up when not in use, then these brackets are the way to go.
The fold up mechanism allows you to save space when you don't need your shelves. YUMORE has also taken into account the rattling noises most people face with foldable brackets. The joints of this 12-inch model are reinforced with washers of the right size, which reduces any sort of rattling and maintains a smooth transition when folding.
What's more, the bracket is constructed from top-quality stainless steel, which allows it to hold up to 150 kilograms of weight at ease. Not only will it carry large amounts of weight, but it also looks great while doing so.
The brushed stainless steel has a protective layer which makes it resistant to scratches and corrosion.
Furthermore, the entire installation process of the bracket is quite easy. This is a major plus point for rookies. All the mounting accessories such as the screws and anchors come included in the box. So, whip out your toolbox, drill a few holes in the wall, and you should be good to go.
Foldable design neatly tucks shelves away to save space
Easy installation with all accessories included within the packaging
Has a max load capacity of 150 kilograms
Stainless steel construction is resistant to rusting and minor scratches
There is a slight slant when the shelf is attached
---
2. Premium Heavy-Duty Shelf Brackets – Quarter Inch (1/4″)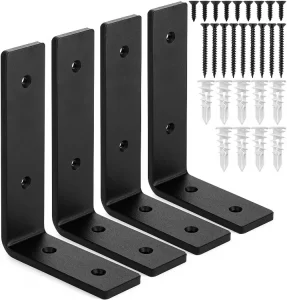 For people looking to place shelves within the household to add decoration pieces, this next bracket is definitely worth checking out. The 4 bracket set from Claimed corner is a good choice for most indoor shelves because of its concealability. It has a basic L shape which can be attached using 4 screws on each side.
What makes this shelf bracket great are the subtle features that make all the difference. For instance, the 1/4 inch or 6-millimeter thick stainless steel build ensures durability in the long run. This also prevents your shelf from slanting and dropping all your decoration pieces.
Moreover, Claimed corner has added a rustic finish to the brackets. Compared to their competitors, the rustic design does more than add to aesthetics. Most brackets use a smooth glossy or matte finish, these are prone to scratches and color flaking. And so, the rustic finish helps to keep your brackets good as new.
Slim profile of the bracket makes it easier to conceal
Rustic finish reduces the possibility of color flaking off from scratches
Includes 4 brackets which can accommodate 2 shelves
Screws and drywall anchors are all included
Can hold up to 250 pounds per pair
Placing heavy objects might cause the shelf to slant over time
---
3. North American Country Home 4 Pack Heavy Duty Shelf Bracket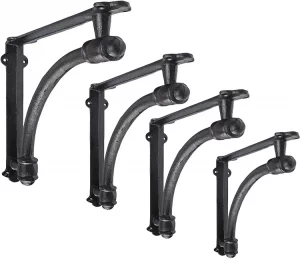 People often take time to decide where to put their floating shelf because they want it to complement the room aesthetics. If you're someone who is going for a classic interior look, then check out this 4 pack decorative shelf bracket from Northern American Country Home.
This bracket features the basic L shape but has a curved design on the bottom to turn it into a triangle. You also get 5 different color choices with 3 different sizing options to customize the bracket according to your needs.
Unlike the other brackets we have discussed so far, this one boasts a weighted cast iron construction. This ensures that the brackets are able to withstand heavy load without bending. The cast iron is suitable for both indoor and outdoor use as it is rust and corrosion-resistant. As a result, you can use this to add floating shelves both outdoors and indoors.
In addition, the brackets have a very old-timey look which is best complemented with wooden shelves. The textured finish gives off a hand-hammered look which makes it look elegant and heavy-duty. The screw holes are placed at very discrete positions to allow the bracket and shelf combo to be the center of attraction.
Hand-hammered look enhances aesthetics for wooden shelves
Weighted Cast Iron build is durable and tough
Rust and corrosion-resistant coating ensures long service time
Comes with multiple colors and sizing options
Can be used both outdoors and indoors
Screws and anchors are not included with the packaging
---
4. North American Country Home Thick Cast Iron Victorian Decorative Shelf Bracket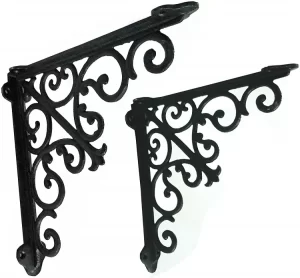 If you didn't like the hand-hammered design of our previous pick from North American Country Home, then check out this Victorian shelf bracket instead.
The L-shaped decorative bracket comes with an intricate design between the joints that will elevate the looks of any shelf. You can choose from 3 different colors, which include Antique gold, black and white, with 3 sizing options. This makes this a very flexible choice for any household with a classic theme.
Much like the last one, this model is also constructed from weighted cast iron, which makes it tough and sturdy. The decorative patterns have been carefully crafted to ensure all brackets are identical. The iron body enables the bracket to withstand heavy weights without creating a slant on your shelf.
Moving on, the shelf comes with 4 pre-drilled holes on each bracket, so all you have to do is line it up with your wall and drill. The positioning of the screw holes needs to be applauded because they are well placed near the joints to make them discrete. This preserves the 80s vibe your shelf and bracket combo will bring.
Detailed design between joints creates a classic vibe
Weighted cast iron construction ensures durability and longevity
Brackets come with pre-drilled holes, which saves time and effort
Comes in multiple sizing and color options
Packaging doesn't include necessary screws and anchors for installation
---
5. Original Granite Bracket Hidden Island Support Floating Shelf Bracket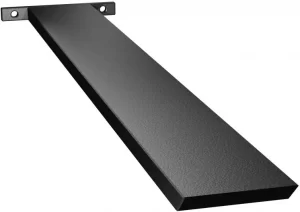 Anyone who has experience working with hardware knows how versatile floating brackets are. They can be used to fit shelves, countertops, or even foldable tables on the wall.
The main issue with finding floating shelf brackets for countertops is the weight capacity and how well you can hide them. Countertops are usually made from marble or heavy wood, which adds a lot of stress on the bracket. This hidden island support is made of the best quality steel and has a black coating on top.
Whether you want to place heavy granite countertops or simple wooden ones, this bracket will be able to handle them all.
In addition, we loved the design of the bracket as it doesn't feature the common L shape. Instead, it is like a shelf on its own with two pre-drilled holes on one end and a 45 degree cut on the other.
The angled cut on the other side was a very subtle feature which does wonders to conceal the bracket. According to the dimensions of your table, screw in the bracket on one side and let the other end protrude over the edge. Afterward, all you need to do is place your heavy tabletop, and you're good to go.
Comes in a wide range of sizing options to aid flexibility
Premium-grade steel construction ensures heavy weight capacity
45 degree angled cut, and modified design keeps it well hidden
Upper layer coating ensures resistance to rusting and corrosion
Pre-drilled screw holes are not always consistent in diameter
---
6. LEOPO Shelf Brackets for 8 Inch Shelves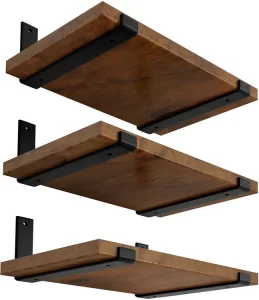 Up next on our list, we have this 6 pack 7.25-inch floating shelf bracket set from LEOPO. This is just perfect for people looking to get the most bang for their buck. The high-quality 6 piece bracket set comes at a very affordable price which makes it the ideal choice for bulk purchasing.
From first looks, this floating shelf bracket follows a unique design pattern. It is more like a J shape as opposed to an L shape. The only difference is the extra bit of rise it has on the protruding end. This ensures your shelf doesn't fall off in case of a slant on the bracket. With four pre-drilled holes on each bracket, this set is bound to keep your shelf safe and sturdy.
All the brackets in the set are constructed from waxed raw steel, which gives them extra toughness and strength. When paired together, they can hold up to 150 pounds at ease. So, if you were looking for one of the strongest floating shelf brackets, then this is it.
Furthermore, LEOPO has added an extra layer of power frosted black coating on the brackets. This protects the wax raw steel construction from rusting and corrosion while also adding significantly to the aesthetics. The power frosted black layer is also hard to scratch and will rarely flake off.
Unique J-shape design offers enhanced support to the shelf
Power frosted black coating ensures rust resistance
Waxed raw steel construction is able to carry heavy weights
Includes installation manual for beginners
Cannot accommodate shelves over 7.25 inches in length
---
7. Rustic Red Door Co. Steel Heavy Duty Shelf Brackets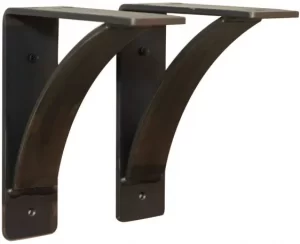 Our next pick is this 2 pack shelf bracket from Rustic Red Door Co., which in our opinion, is the best solution for shelves in a workshop.
Without focusing much on the design, they have placed all their best efforts on making a heavy-duty bracket. This pair is made from high-quality steel, which has been hand-welded with precision. This allows the bracket to evenly distribute all the weight of the shelf to the joints. As a result, the brackets are able to carry heavy loads for long periods of time.
What's more, the hand-welded steel is strengthened further with a clear matte powder coat. This helps to create a rustic look to complement wooden shelves while also making the bracket corrosion and rust-resistant. Also, the steel is strong enough to resist chips and light scratches.
Moving on, Rustic Red Door Co. has put in enough work to make this an all-purpose shelf. So whether you want to place a shelf outdoors to sit your potted plants or indoors for your equipment, it'll do both comfortably.
Hand-welded joints for enhanced strength and weight distribution
Powder coating adds a rustic look for aesthetics
Rust, corrosion, and chip-resistant coating
Suitable for both outdoor and indoor use
We couldn't find any cons for this product
---
8. EVALD The Heavy Duty Floating Shelf Hardware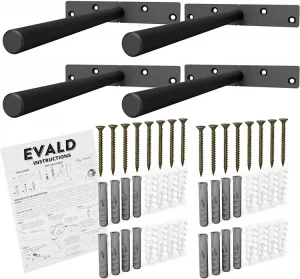 Our last pick for today is the EVALD heavy-duty floating shelf bracket. Unlike most of our other picks, this one features a unique concealable design. The bracket consists of a cylindrical rod with a diameter of 1/2 inch, which is to be slotted into the shelf. All you need to do is drill an 8-inch long slot in your shelf to fit the bracket.
In addition, the innovative design features 4 anchor points to attach the bracket to the wall. These anchor points have been placed in a diagonal manner to ensure maximum stability. Each of the brackets is able to hold an astounding 125 pounds, which should be more than necessary.
The packaging also includes 16 high-quality screws and anchor points, which keep the bracket fixed flush against the wall. Both the screws and brackets are coated with special powder to make them resistant to rusting and corrosion. This enhances the durability of the brackets and keeps them looking fresh over long years.
4 diagonal anchor points ensure stable fit with the wall
High-quality carbon steel is durable and tough
All necessary screws and anchor points are included in the packaging
Holds a maximum of 125 pounds per bracket
A fully hidden design enhances the aesthetics of your shelf
Brackets cannot hold heavy loads when not used in pairs
---
Buying Guide For Floating Shelf Brackets
Before you go out to buy your own brackets for your desired shelf, check out a few of these factors to help you choose better.
Build Material
When it comes to choosing a floating shelf bracket, the build material is something that needs extra attention. Not only does it determine the load capacity of your shelf, but it also affects the aesthetics.
Some of the most common materials seen in household floating brackets are stainless steel, wood, and aluminum. While wood is mainly used for shelves which carry light weight, they tend to add more value in terms of the overall look. They also allow you to add your own designs by engraving or painting over them. 
However, if the sole purpose of your floating shelf is to carry heavy weights, then you will be better off using aluminum or stainless steel shelf brackets. These are sturdy and tend to last much longer than wood.
Load Capacity
The next thing you need to consider is the total weight of the objects that will sit on your shelf. Floating shelves are essential to any household or workshop to keep your belongings within reach.
With that being said, if you are looking to place books or small flower pots for decorative purposes, then you should be fine using a shelf bracket with a maximum of 40 kg load capacity. Some of the best hidden shelf brackets are able to hold around 50 to 100 kg load at ease.
The same would not apply to shelves that are to be placed in workshops. Since you will be using a lot of heavy-duty equipment, your workshop floating bracket should be able to carry heavier weights.
There are tons of heavy-duty concealed floating shelf brackets that can hold up to a maximum of 300 kilos! This makes them perfect for a workshop scene because they allow for easy access to your necessary tools.
Design
Whether you're looking for a bracket to fit in your home or your workshop, the design needs to complement the surroundings. The most common design for shelf brackets is the upside-down L shape. These are easily concealed and make your shelf stand out.
Other than that, there are several decorative Shelf brackets with decorative patterns that can instantly uplift the look of your room. But, we must warn you, these decorative brackets are less likely to hold heavy weights. 
Frequently Asked Questions
1. Which shelf bracket material should I use for my workshop?
Ans. Using a bracket made of high carbon steel or aluminum would be the best option as they can carry heavy weights.
2. Can I use nails instead of screws to hold my shelf against the wall?
Ans. We would strictly advise against it as screws and anchors are able to keep the bracket stable for longer. Using nails could put your shelf and all of the items on it at risk.
3. Do the brackets come with pre-drilled holes?
Ans. Most brackets come with pre-drilled holes as it saves time and effort. But if yours doesn't have them, then you can easily create them using a drill machine.
Final Words
Picking out the best floating shelf brackets for you can be quite a tedious task, especially if you don't know which material you want. A good way to start is by prioritizing your desired weight capacity and moving on from there.
All the products listed above are of the best quality and are guaranteed to last you for the long haul.