Best Routers for Door Hinges – My Top 6 Picks
If you are on the hunt for the best router for cutting slots for door hinges, you have come to the right place. While I personally find the balance of corded routers more to my liking, the convenience of cordless routers is hard to contest.
If you are new to cutting out slots for door hinges with a router and not sure what to look for, I'm here to help. In the below guide, I have rounded up and thoroughly reviewed 6 routers of various sizes, shapes, and motor capacity to assist you with mortising door hinges.
Let's get to it-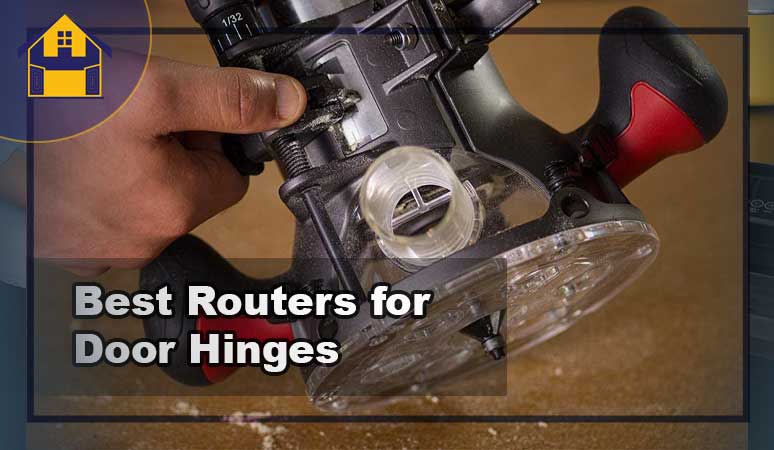 Detailed Reviews of the Best Routers for Cabinet Making or Doors
But before we get to detailed reviews, I'll just give you a quick rundown of my top 5 picks and why I chose to feature them to help you make a decision on the fly-
Quick Summary
1. Best Overall: CtopoGo Compact Wood Palm Router
Can be effortlessly maneuvered on different surfaces due to its lightweight and compact structure – an ideal entry-level model for DIY hobbyists."
2. Most Well-built: DEWALT Router
A robust router for cutting hardwood, this fixed base router from DEWALT has an outstanding depth adjustment feature and would be a great choice for both hobbyists and professional woodworkers.
3. Best Affordable Variable-speed Router: Bosch 5.6 Amp Electronic
It's the perfect compact and lightweight you'll need for light-duty works such as mortising door hinges. The variable speed makes it easy to use on workpieces of varied density.
4. Great Value for Money: Hammerhead 10-Amp Plunge Router Kit
Precise depth adjustment, high-quality attachments, sturdy design- the variable speed router would be a good option to look into if you are learning the ropes of cabinet making.
5. Editor's Choice: SKIL 10 Amp Fixed Base Corded Router
Has the most incredible depth adjustment feature, the parts are well-made, has soft-start, and to top it all off, you can use it with both fixed base and plunge base.
How to Cut Slots for Door Hinges with a Router – A Short Guide
Hanging a door for the first time? I know it can seem confusing at first but it's really no big deal once you get the hang of it. One of the most critical steps in the door installation process is making a cutout for the door hinge.
Mounting the hinge correctly will make sure the door closes properly. Even though a hammer and chisel will get the job done, routing the door hinge is considerably easier with a router.
Below are the directions you can follow to easily cut out notches for door hinges with a router:
Install the router bit.
Adjust the router depth setting based on the thickness of the hinge to be installed.
Compare the size of your new door with the old one to accurately measure and mark the area of the hinge placements.
Support the door with clamps or use your legs as clamps, whichever is easier.
Position the mortising template on the edge of the door, adjust it precisely to the side of the hinge and tighten it using the knob on the side.
Start carving inside the mortising template.
Once you are done routing out notches for the hinges this way, position the hinges in place, drill holes and use screws to bolt them down.
You see how easy that was? Installing door hinges is a cakewalk with a router. You can use this router for a bunch of other DIY woodworking, repair, restoration, and artwork projects.
And now, it's time for more in-depth reviews –
1. CtopoGo Compact Wood Palm Router
Product Highlights:
Motor speed: 30000R/MIN
Trim diameter: 6.35mm| 1/4 inch
What's Included: 12 pcs 1/4″ shank woodworking router bits, trimming guide.
Base type: Transparent base.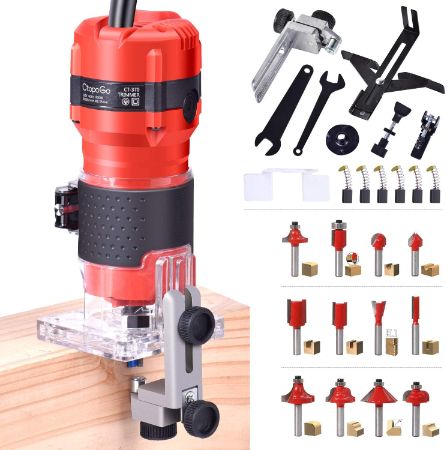 The palm router trimming kit contains pretty much everything a beginner could possibly need to kickstart their DIY carpentry journey. The upgraded kit has 12 ¼" assorted router bits to suit your day-to-day carpentry needs.
Coming to the build quality of the electric trimmer router, it is powered by an 800w motor and does a fine job of cutting the outer lines around the hinge. The trimming guide will make it easy to see where the cutter is going and prevent you from going over the lines.
Adjusting the depth on this router is a cakewalk, something I cannot say for most routers at its price point. The non-slip grip is a great touch too as it makes routing out door hinges a cinch even with sweaty hands.
Another major advantage of this router is its portability. It will effortlessly fit into a small bag. The operation is a cakewalk with an on/off switch conveniently located at the top.
Made of aluminum, the router has just the right amount of heft to it. The only downside worth noting here is that the bits are a bit of a pain to swap out. You will need wrenches to change the bits which is a trade-off I can live with.
Pros
Comes with 12 ¼" well-made bits.
Quiet and easy to maneuver.
Runs on a very powerful 800w motor.
Highly portable.
Ideal for restoration projects as well.
Cons
Changing the bits could take a while.
---
2. DEWALT Router for Woodworking/Cabinet Making
Product Highlights:
Motor speed: 24,500 RPM.
Base type: Fixed base.
Micro-fine depth adjustment: Yes.
Material: Heavy-duty, precision machined die-cast aluminum.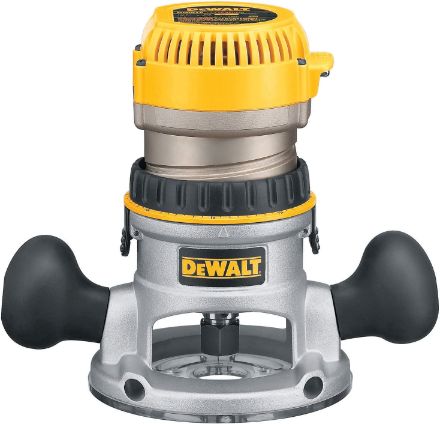 The brand doesn't require an introduction. This router is rather on the pricier side but its superior design and smooth maneuverability on different surfaces justify the price tag.
It draws its speed from a mighty 1-3/4 HP 11.0 amp motor that can shear the thickest woods like it's no big deal. Although it's quite a heavy unit, that won't be a problem since it will have to be locked at a fixed position on a table.
The biggest advantage of using a fixed base router for routing out door hinges is the great visibility it provides while carving. The router kit includes ½" and ¼" bits which need to be tightened with the two wrenches also included in the box.
The depth ring is cleverly positioned to make precise depth adjustments a breeze. Choose this router if you need a larger base as smaller routers have the tendency to fall into the template hole on larger hinge mortises.
Pros
Great for small to medium-intensity carpentry jobs.
Apart from all kinds of woods, it can also cut soft materials.
Super easy depth adjustment.
Quick-release motor latches for easy base changes.
Cons
Doesn't have variable speed.
Not compatible with round-over bits.
---
3. Bosch 5.6 Amp Electronic Variable-Speed Palm Router
Product Highlights:
Motor speed range: 16,000 to 35,000 RPM
Base type: Fixed base.
What's included: 1/4 In. collet chuck, bit-changing wrenches, edge guide.
Depth adjustment: Macro and micro depth adjustment.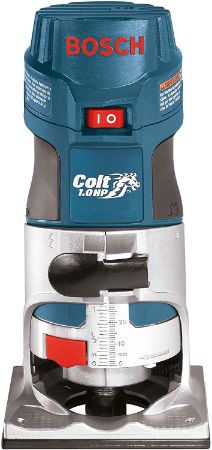 Bosch variable speed palm router is a highly versatile tool that will cater to you a wide variety of your woodworking needs.
Powered by a 1 HP motor, this electric router is way easier to handle than a fixed base router. Its lightweight design makes it ideal for mortising door hinges.
Not just for routing door hinges but the trim router is also versatile enough for making hinge cutouts for cabinets and casements. For doors wider than ¾", you will have no trouble holding the router flat on the edge of the door.
It comes with a self-releasing collet which is designed to fit ¼" shank bits. The shaft-lock button and wrench let you quickly change the bits.
The palm router packs quite a punch for its size and is easy to set up as well.
The variable speed allows you to cut down the noise if you want to. Since it's not a full-size router, its max depth range would be approx 1 1/8″. Fine depth adjustment is not really its strong suit.
More often than not, it fails to hold its depth setting. So if your DIY projects require constant fine depth adjustments, give it a pass.
Pros
Sturdy build, easy to keep flat on the edge of the door.
Is powerful enough for cabinet making as well.
Has variable speed control.
Includes high-quality collet lock and wrenches.
Light and therefore, easy to handle.
Cons
The depth lock is subpar.
---
4. Hammerhead Plunge Woodworking Router Kit
Product Highlights:
Motor speed: – Variable speeds from 11000 RPM- 28000 RPM
Depth adjustment: Micro-fine depth adjustment dial.
What' include: ¼" collet, vacuum adapter, wrench, edge guide.
Material: Heavy-duty aluminum.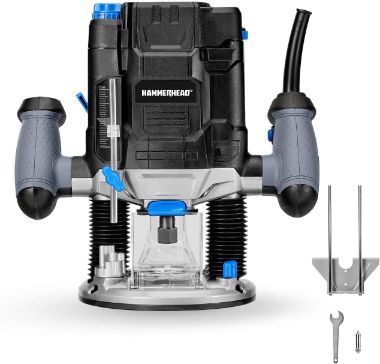 This 10 amp variable speed plunge router has a wide array of applications which includes making cutouts for door hinges. As far as depth range is concerned, it can dig 2 11/64" into any wood without a problem.
The depth adjustment on this router is remarkably good. It even features a dial to fine-tune the depth adjustments which lets you achieve uniform depth of cuts without breaking a sweat.
What's even better is that you can lock the router at your desired depth setting and get consistent results in every attempt.
The router kit comprises a sturdy ¼" collet, a wrench to tighten the bit, an adapter, and a few other useful attachments to help you finish your projects with ease.
One of the attachments included in the kit allows you to cut curved coves and round corners. There's a vacuum attachment as well which can be connected to the router to collect sawdust.
The plunge router deserves brownie points for its incredibly user-friendly design. The buttons are strategically placed on the body for easy access and can be raised and lowered effortlessly.
Pros
Tangle-free wire.
Easy to cut straight edges as well as rounding off edges with.
Incredibly accurate depth adjustment feature.
Has a micro depth adjustment dial to help you achieve precise cut depths.
Easily accessible buttons.
Cons
The depth range could be better.
---
5. SKIL 10 Amp Fixed Base Corded Router
Product Highlights:
Speed control: Yes.
Depth adjustment: Coarse and fine depth adjustment.
Special feature: Soft start.
Speed range: 10,000-25,000 RPM.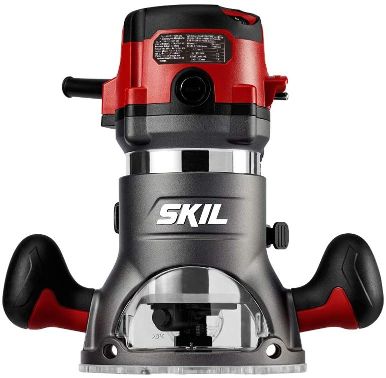 The 10 amp fixed base router sources its power from a 2.0 HP motor. It has plenty of power to cater to moderately heavy woodworking tasks. The soft-start feature, without a doubt, is an immensely helpful addition.
If you are new to power tools and worried about safety, this feature will ease you into the process by gradually increasing the torque twisting. Rounding the edges on both soft and hardwood is an effortless undertaking with this router. It even has dual LED lights at the base to provide a clear view of where the cutter is going, a feature that comes truly handy in low light conditions.
The motor speed is adjustable from 10,000-25,000 RPM. You can digitally slow down or increase the speed to achieve smooth cuts and avoid tear-outs or ripped cuts.
The digital controls are easy to get your head around and the LCD screen is easy to view in bright sunlight. Another standout feature is that you can completely remove the router from the casing and use it with a plunge base as well to suit your application.
Both fixed and plunge bases feature a 3-course depth setting knob and a highly accurate micro-fine depth adjuster with depth lock to help you set precise depth for your projects.
There's a vacuum attachment included as well that will effectively collect all the dust resulting from your woodcutting operations. The router isn't exactly quiet but the noise and vibrations are bearable.
In short, the router checks all the boxes and no matter your skill level, this router lets you round out the notches for door hinges on the fly.
Pros
Compatible with both fixed and plunge bases.
Has 3-course depth setting and fine depth adjuster.
Dual LED lights for clear optics in low light situations.
Intuitive digital controls.
Soft-start feature for safety.
Variable motor speed allows you to achieve smooth cuts on different materials.
Easy to change the bits quickly.
Cons
---
6. PORTER-CABLE PCE6430 Router
Product Highlights:
Motor speed: 31,000 RPM.
Base type: Cast-aluminum fixed base.
Depth adjustment ring: Yes.
Base type: Fixed.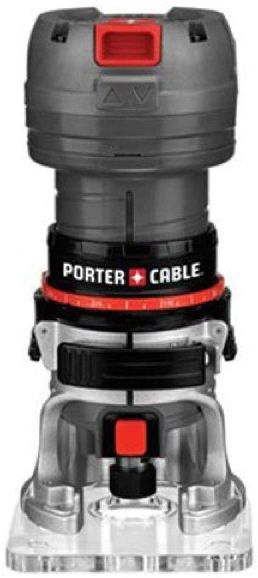 The last entry on this list can be easily touted as of the best routers for cabinet making that's suitable for beginners. The single-speed fixed base router runs on a 4.5 HP 31,000 RPM motor, allowing you to carve hardwoods with ease.
With a little practice, you will be able to cut straight edges as well as round off the edges of wood for diverse woodworking projects. The depth dial adjustment is spot-on which would come handy when you need a precise depth of cut on a workpiece.
The locking mechanism isn't outstanding per se as it's a little difficult to unlock but it gets the job done after all. You won't have any issues working in low light, thanks to the LED light on the tool.
It's a fairly compact tool to maneuver and comes with a long cord that fortunately doesn't come in the way and wraps around your legs.
Pros
Accurate depth adjustment dial.
Lightweight and easy to use.
Comes with a long, tangle-free cord.
The motor has plenty of power for moderate woodworking assignments.
Great for routing a hinge mortise, edge rounding, laminate trimming, and a host of their various DIY projects.
Cons
The depth locking mechanism could be better.
---
Also Read: Best Drill Bit for Cabinet Hardware | Top Picks & Reviews
Frequently Asked Questions
1. What kind of router do I need for door hinges?
Plunge routers are big and robust and therefore, provide a good balance while cutting. However, for light-duty jobs like routering a door hinge mortise, you will be better off with a trim router or palm router.
2. Can you use a trim router for door hinges?
Yes, you can. A trim router, also known as a laminate trimmer, is a versatile tool that can perform a host of small but intricate jobs like routing a door hinge mortise with ease. Sure, you can do this without a trim router as well but with this tool, the process is a lot more efficient.
3. Should a door hinge be flush?
Yes, the top of the hinge needs to lay flush in a door frame. An unevenly mortised door hinge will prevent the door from closing properly. Although the traditional way to mount a door hinge is with the help of a chisel or Dremel, it's much easier to install a door hinge with a router.
In Conclusion
Cutting smooth and clean edges on a door to make room for hinges is way easier with a router. It's a misconception that routers are only for pros. Even if you are hanging a door for the very first time in your life, you need a router to cut perfect door hinges. If you try to do the same by hand, there's a very good chance of screwing the whole thing up. So take your time to find a quality router that fits the bill and up your DIY game.