Best Under Door Noise Blocker | Top 8 Latest Picks
Doors are meant to be the guardians of your privacy and security. However, faulty doors can start to make your life unwantedly transparent. While it may not be a feasible option to change your door entirely, there are some other workarounds to it. But remember that it's not easy to find the best under door noise blocker without proper research.
And that is why we have done the research for you. We even took the liberty of compiling some of the best solution offering products. All of these listings contain a detailed explanation of what it's like to operate them individually. Make sure that you go through all of the reviews before making your pick!
Top 5 List
Best Overall: DECOREALM Door Draft Stopper Under Door Seal
Best Value For Money: ZBEIVAN 3 Pack 39×1.7 inches Silicone Under Door Draft Stopper
Best Double-Sided Noise Blocker: Funyfa Door Draft Stopper, 2" Width Door Weather Stripping
Best Single-Sided Noise Blocker: MAGZO Upgraded Door Draft Stopper 36inch
Best Soundproofing: MAXTID Door Draft Stopper
How Do You Soundproof The Bottom Of A Door?
When we're talking about soundproofing doors, we're talking about the actual business and not the DIY way of using towels. Properly proofing a door refers to the act of clogging any gap whatsoever. While that may sound really simple, it actually isn't.
The internet has thousands of suggestions for what you can use to block these gaps. However, not every solution is a workable one. Therefore, finding the right piece of advice can turn out to be a hefty task.
Let's start by addressing the elephant in the room – the best way to soundproof a door is to use well-manufactured noise blockers. Yes, you can use that one soundproof blanket that Uncle Henry got you. But that won't count as a sustainable solution to your problem.
If you're like me, then you don't like having to deal with unwanted noises coming out of the bedroom even after the door is locked. Again, noises from the street can often creep into your living room. This is more likely to happen if you have an entrance door that's slightly elevated from the ground.
Interior experts and designers all agree that a well-built door stopper acts as more than just a noise blocker. It also helps in keeping dirt and smoke outside. A proper way to soundproof doors is to place blockers that are thick in material, such as layered silicone stoppers. Keep reading this article for recommendations on a few of the best ones out there.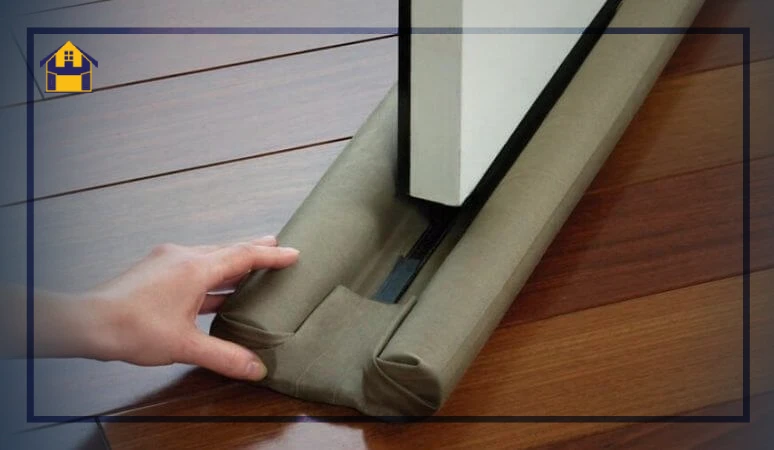 Top 8 Best Under Door Noise Blocker Reviews
When looking for a proper stopper for your doors, consider everything starting from fitment to looks.
Here are the best soundproofing options for your door –
1. MAXTID Door Draft Stopper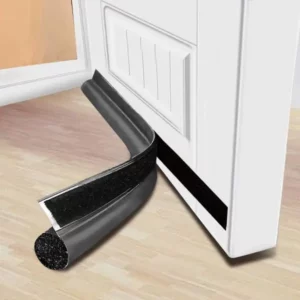 This door stopper is a common name in the woodworking community. Several doormakers, themselves, use this stopper for their houses. Which made us wonder – what's so special about this medicine that even the doctors have it! Right off the bat, MAXTID offers two different sizes – the 36- and 30-inch versions of the same premium line stopper.
The product straps on only one side of the door. It goes on the door with the help of a very strong Velcro setup. Since the product is an all-service one, therefore it can protect you against both external debris and chilly winter breeze. Due to the variety that this thing has to offer, we are now able to use the gadget on all home doors.
For instance – it will serve just as much purposefully in the kitchen door as it will in the bedroom door. But keep in mind that even the best door sweeps for soundproofing can have a hard time sealing commercial office doors.
Another exciting feature of this product is that it treats both warm and cold air the same way. Therefore, your room remains warm or cold (depending on what you want), for as long as you want. Moreover, the minimalistic look is great for houses with narrow and lowered doors.
Considering all these features, MAXTID is a clear winner as far as simplicity is concerned. Since the build is simple, therefore the price is also quite affordable. This makes it a proper pick for those who don't want to go too heavy on their pockets.
Can be used on both sides of the door for enhanced performance.
Stays on the door for longer periods as it doesn't weigh too much.
Soft but durable, so it doesn't hurt if it accidentally hits your toes.
Easy to install and maintain for newbies.
Offers various colors to blend in with your particular floor type.
Velcro may start to wear out if it is reattached too frequently
---
2. Holikme Twin Door Draft Stopper Weather Stripping Window Breeze Blocker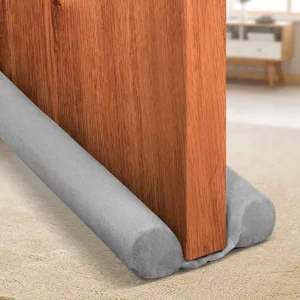 Are you looking for effortless installation and a simple build? Then this is the first product on our list that is a double-sided door draft. Of course, the product's name is self-explanatory, but we'd like to point out why this may be the best door noise blocker for your home.
Now, on colder nights, you'd wish that you had an extra stopper to prevent wind from creeping into your room. But with this gadget, it's almost impossible for the breezes to enter. Since the protection comes from both sides of the door, the endurance of the air seal is much better.
However, remember that Holikme has been designed to keep out the breeze and cold. Its light structure makes it imperfect for soundproofing. But that doesn't mean that it has no effect on sound whatsoever. In fact, it dampens it quite well. At least enough for you to have a goodnight's sleep.
Holikme has tried its best to incorporate weightlessness in the draft stopper. For which they have had to use materials that are light as well. As a result, this stopper may not be the best noise blocker in the bunch. This is mainly due to the comparatively lesser density in the material.
Keeps both hot and cold air outside to provide thermal comfort.
Doesn't fall out easily due to the strong clamping mechanism.
Has a larger cylindrical radius to cover bigger gaps.
Doesn't use any adhesives that harm the door
Comes in a variety of cover designs to fit the interior of your home.
External cover gets dirty very quickly
Doesn't soundproof the room entirely
---
3. MAGZO Upgraded Door Draft Stopper 36 Inch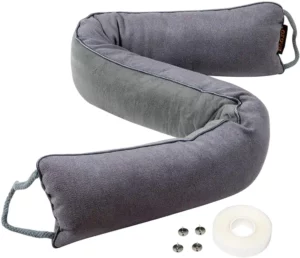 Different draft stoppers offer different compositions. As a mere customer who just wants to get the job done, it's unnecessary to dive into those details. But if you're going for MAGZO then you should know that their stoppers have three silicone layers. This material makes it more flexible, durable, and appropriate for use.
The company offers its customers optimum sealing. To back their claims, they regularly release modifications to their products from user reports. This upgraded door draft stopper is also the modified version of a previously released ancestor.
The draft stopper not only keeps debris and insects from entering but ensures air sealing also. So, you will benefit both ways if you're room is air-conditioned. Again, this package comes in the size of 36 inches. In case your air gap is smaller in size, you can always cut it into your desired measurements.
Since the installation is simple, you won't be needing any professional help at all. The straightforward application process makes the stopper a common pick among the new customers. If you're thinking of getting one of these without putting much commitment into it, then MAGZO should be your pick.
Provides protection and service all throughout the year.
The flexible silicone material is resizable to fit compact areas.
Consists of three layers of silicone so that your rooms retain temperature for longer.
Simple 'peel and apply' method of installation to make things easier for new users.
Extremely slim profile that looks smart and doesn't take up space.
Doesn't perform the same for outdoor air sealing as compared to indoor sealing.
---
4. DECOREALM Door Draft Stopper Under Door Seal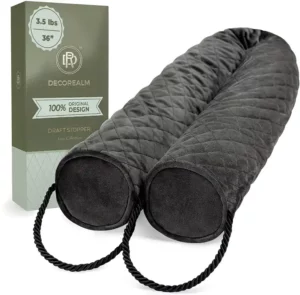 If you've done your fair share of research, then you may already know that stoppers do not function the same in all doors. So, you must understand whether a particular stopper is fitting for your door or not. With this amazing product, you can say goodbye to those worries. 
Yes, you read it right. DECOREALM is the perfect choice for those who don't want to put too much thought into what best fits their door. The one-way valving system keeps the sealant in place. It also maintains a vacuum both in and out. Apart from the basic features of a stopper, the product also has a neat look to back it up.
If you have a house with a modern interior, then a silicone rubber material at the base of your door will look quite odd. DECOREALM offers multiple subtle color options to get rid of this issue. Therefore, you can always resort to a different style in case you want to switch.
The product is tender and soft in the hand and comes with an external cover. So, you can pop the cover in the washing machine once it gets dirty. It also has a hook on either side for easy hanging storage.
In all honesty, the stopper can look too fancy if you compare it with other ones in the market. But don't let the extravagant outlook fool you into considering the stopper as incompetent. It's carefully weighted to the perfect balance so that it's not easily moved by any external force coming from outside.
Provides proper aid against both sound and outdoor smoke.
Appropriate for use in the living room door or main entrances.
Comes with an external cover that is machine washable.
Has a hangar on both sides of the stopper, so it's wall-hangable.
Cannot be easily moved by pushing from outside.
Offers an appropriate balance of style and service.
Doesn't offer protection against the entry of small insects.
Sands and beads within the product can move out of place sometimes
---
5. Suptikes 2 Pack Door Draft Stopper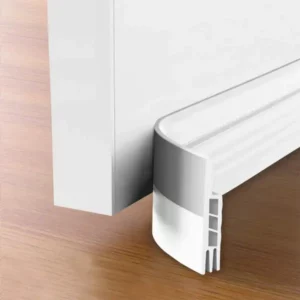 Most companies out there in the market tend to promise their customers almost everything that a draft stopper has to offer. However, this is not the case with Suptikes. This company offers their customers exactly and only what they can offer.
So, if you're thinking of getting this 2-pack package from their brand, then you will not be disappointed. The strips can keep away small noises outside. Therefore it has a decent sound dampening quality. However, it doesn't deal with loud noises too well. Therefore, heavy sounds such as construction noises will still enter your room.
The best thing about this stopper is that it has a material that is soft to touch. And since the cover is smooth, it won't hurt your body if you bump into it by accident. The product doesn't feel coarse to touch. Therefore it won't irritate your skin either. This can be a great thing if you have toddlers running about in the house.
Lastly, draft closers that offer this sort of service tend to charge their customers a hefty amount of money. But Suptikes knows their way around customer psychology and doesn't do the same. As a result, this stopper offers great value for money.
Despite being soft, tender, and appropriate for homes with children, the product doesn't compromise on quality. It also has great endurance against debris and dust. Therefore, it comfortably lasts longer than most other competitors on our list. It also works perfectly well with large doors. Even if users have preinstalled a barn door floor guide.
Gives off a slightly minimalistic vibe that fits the modern household interior.
Easy to store and put away, so it doesn't take up a lot of space.
Doesn't damage the door paint or scratch the floor.
Easy to reshape and resize in case default size doesn't fit door format.
The extremely strong adhesive is not appropriate for spray-painted doors.
Doesn't offer a variety of color options.
---
6. ZBEIVAN 3 Pack 39×1.7 inches Silicone Under Door Draft Stopper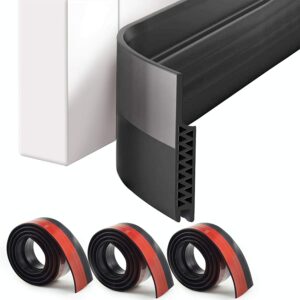 This door noise blocker is one of the most durable ones out there. Since their longevity is well trusted in the community, a larger number of people rely on ZBEIVAN's long door stoppers.
We emphasize on 'long' because the standard size of this product is somewhat close to 39 inches. This makes it the best under door sound blocker for customization.
If you look at the product description carefully, you might also notice that the width is close to 1.7 inches. However, some users have claimed that it's a little below the mentioned size. This shouldn't be a problem if you have a standard door width.
The ZBEIVAN 3 pack is a much more beneficial option for those looking to renovate their house. Therefore, it can be especially economical for you if you are looking to cover more than 2 doors in your house. This not only brings consistency in how the door looks but reduces hassle as well.
This door stopper is a solution for those renovators who don't want to crib up external expenses. So, it's both economical and sustainable as a way to keep out dust, debris, smoke, and unwanted breezes.
Lastly, the company focuses on enhancing compatibility. As a result, they have designed the door stopper to be compatible with all types of floors. Be it carpet, vinyl, wood, or tile, the product can move across it effortlessly.
Works with multiple floor types.
Appropriate for bulk renovation and gap sealing.
Heavily customizable into any size the user sees fit.
Fits perfectly on metal doors and motorized home doors.
Silences the noise by both dampening and barring sound.
Able to maintain shape despite being flexible enough to bend from the middle.
Doesn't work for gaps less than 1.7 inches.
The adhesive isn't strong enough to hold the stopper in place for months.
---
7. Funyfa Door Draft Stopper, 2 Inch Width Door Weather Stripping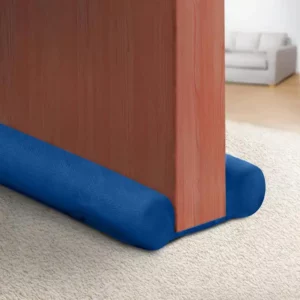 Customers tend to remain furious about two things that door draft stoppers fail to deliver. The first one is mostly the lack of strength in the adhesive. Whereas, the second one is that the door draft stoppers do not come in the width that their packages claim to be.
Funyfais one of the first draft blockers to break away from this curse and launch a product that's both sticky and true to the mentioned size. Since woodworkers and masons work with careful measurements of their environment, this product gives them an extra hand.
After you install a gap blocker under your door, the item has to resist pressure coming from both sides. Because a door goes back and forth repeatedly. The Funyfa 2-inch hovers very gently on the floor (if fit correctly). So the product stays on the door for longer.
Again, it doesn't compromise on sound barring, giving you a soundproof door sweep experience until it comes off. This product is particularly preferable to those who have thicker doors. Moreover, the range of this product's length is about 6 inches. So, you can pick anyone from 32 to 38 inches according to your need.
Premium quality material that doesn't compromise sound aiding
Strongly built blocker that can endure force coming from sides.
Doesn't loosen upon frequent use of the door,
Has a wide range of options to choose from (lengthwise).
Not rigid enough to injure toddlers or pets.
Doesn't work properly with doors that have don't have a minimum of 2 inches of space underneath
---
8. VERGILIUS Under Door Draft Stopper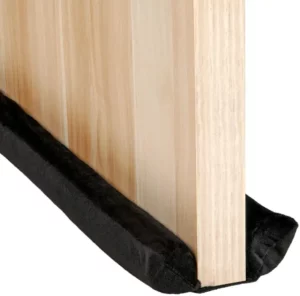 Any double-sided draft stopper in the market poses the well-known fitness problem. And almost all of them are cylindrical in shape. This is where VERGILIUS steps in to save the day. This stopper is both minimal and congested in terms of size. As a result, you can't really call it cylindrical.
The blocker is exactly as it looks in the product description photos. But despite being leniently slim in shape, it holds onto the door like it's holding for dear life. The only way to take them off is to remove the cushioning outwards from the doorknob in a linear fashion. It's highly unlikely that your pet can 'pull this off.'
Considering preconditions will help you to pinpoint something close to what you want. If you'd like to hide your door stopper in plain sight, then this is the right pick for you. Plus, it's super easy to clean.
You may also rely on VERGILIUS for protecting your front and porch doors. People, especially from the southern part of the world are no stranger to the extreme cricket noises that come in through the front door. This bad boy manages all the noise all by himself.
Extremely easy to clean
Appropriate for all sorts of external noises.
Minimalistic look that you can hide in plain sight.
Multiple fiber layering to stop any smoke coming from outside.
Perfect for fitting into tight and compact spaces.
Able to cover room doors as well as smaller closet doors
Width is comparatively more than standard
Some lots had complaints of quality control issues from reviewers
---
FAQs About Under Door Noise Blocker
1. Can an under-door noise blocker stop smells?
Whether your gap blocker will stop smells or not depends on what material it's made out of. If the material is simple foam, then there's a chance that it won't stop smells. Again, if there are multiple gaps on the sides of the door (other than the one below) then a blocker won't work against odor.
2. Does the thickness of material affect performance?
Thicker materials perform better as far as odor and breeze protection is concerned. However, there are silicone-based stoppers in the market that do not require a lot of layers. So, they are naturally lightweight straight out of the box.
3. Can I use a draft stopper under my restroom door?
Technically, you can. However, make sure to use drafts that come with an external cover for protection (unless you have Roller blinds for sliding doors). That way, you can protect the sweep from getting dirty or wet.
4. Are sliding stoppers better than adhesive stoppers?
The only difference between the two is that sliding stoppers are almost always two-sided. At the same time, adhesive stoppers are one-sided but can be turned into two upon modification. Again, adhesive stoppers offer a snugger fit with your doors than their counterpart.
Conclusion
Before you make your final pick ask yourself – whether you're looking for an entry-level blocker or one that will stick to your door, even in humid weather, if you're on a tight budget but would still like to enjoy the perks of a draft stopper, go for MAGZO Upgraded Door Draft Stopper.
However, if you have a lenient budget, then the best under door noise blocker is the DECOREALM door draft stopper. But just in case you're still unsure about which team you fall into, then you can always play it safe with the ZBEIVAN. That'd be everything you need to know about draft blockers. Enjoy shopping!