Top 8 Best Blinds for Sliding Doors – Updated 2022
Modern architectural designs emphasize a lot of styles, and that's where sliding doors come in. These elements not only make your house look modern and stylistic, but they're also very convenient.
The only problem that you can experience with sliding doors is the flooding light during the daytime or even at night if there's a powerful light source nearby.
This problem can be solved with blinds. However, getting quality blinds that are capable of providing the ambiance, you're looking for can be a challenge. To ease that, we're going to share the best blinds for sliding doors that we've come across through our research.
What Kind of Blinds Can You Put On Sliding Doors?
There are different kinds that you can furnish your home with. And it's better to know the best blinds alternatives for sliding glass doors in detail before considering your options.
Panel Track Blinds
While buying window coverings for sliding glass doors, the type you'll come across most frequently is panel track blinds. These are also considered the best solution for installing blinds.
Essentially, these are vertical panels that are placed side-by-side, and you need to slide them sideways to either extend or retract them. These are pretty modern, and they'll give your home a classy touch.
Vertical Cellular Shades
Also known as honeycomb shades, the vertical cellular shades are considered the most energy-efficient shades out there. These come in options such as single, double, and triple cell construction, and they will allow you to customize the energy efficiency of your home.
How are these energy efficient? Well, the special construction of these blinds allows them to cool internal spaces much faster than other blinds on the market. Thus, you'll have to spend less energy on the cooling system.
Custom Curtains and Draperies
If you prefer the traditional curtains and drapes over the blinds, then we highly recommend going for them. You can either buy these online, or you can go for custom-made ones. Both are good options, to begin with, so you should opt for the one that suits you better.
Track Faux Wood Shutters
These are more like wooden shutters than blinds. Unlike the blinds, these are solid, and you'll have to open and close them like sliding doors. If you want to block the permeation of sunlight to an internal space completely, these are the best choice for you.
Sheer Vertical Shades
Sheer vertical shades are great options as they offer characteristics from both vertical blinds and window coverings for sliding glass doors. These come either opaque or semi-opaque, and that allows them to create a warm glow. If you want the blinds to permeate some heat into your room, then this is perfect.
The fabric used to make these is a sheer fabric with vinyl vanes. Unlike the regular vertical sliding blinds, these can be tilted to allow light to pass through.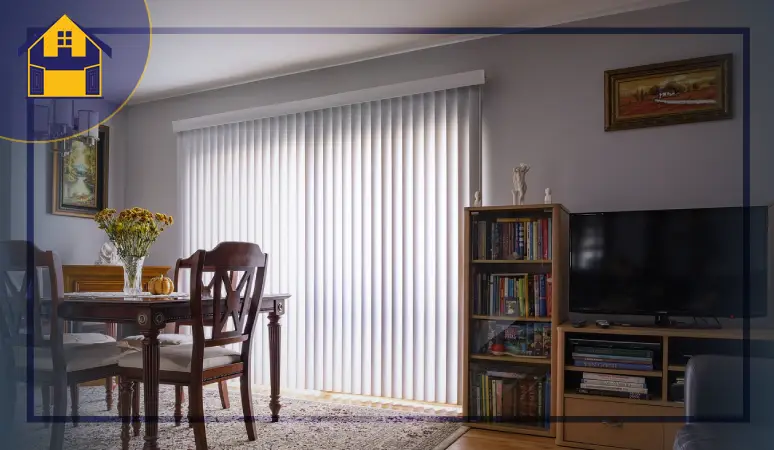 8 Best Blinds for Sliding Doors Reviews
Choosing one set of blinds from the options on the market is challenging. You can use this section to narrow the choices down. 
1. GoDear Design Deluxe Sliding Panel Track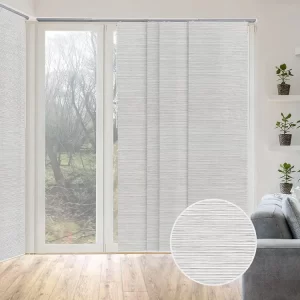 To begin with, we have these blinds for sliding windows from GoDear. It's an adjustable 4-rack system that spans from 45.8" to 86" in width. Each panel is 96" tall and 23" wide. However, the panels are made with trimmable fabric, so you'll be able to adjust them accordingly.
The fabric is attached with Velcro; thus, it can be removed and installed without any hassle. As the fabric is naturally woven, you can use this as either blind or as a room divider.
They also offer a two-stack option, and they can be slid easily with a metal wand. What's amazing about them is their cordless design. Blinds with cords often get damaged, and pretty fast too. You won't face that with these.
The length can be adjusted with a metal slide
Cordless design makes it long-lasting
As it's made of trimmable fabric, the height of the panels can be adjusted easily
Can be installed easily as the panels attach with Velcro straps
As the fabric is trimmable, it'll fray from over usage if you aren't careful
---
2. GoDear Design Deluxe Vertical Blind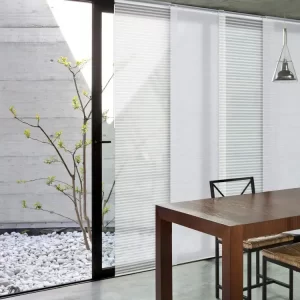 In the second position, we have another product from GoDear, and this time it's a vertical blind. This vertical blind offers some different features and a completely different outlook from the previous one.
The four panels offer two distinct design that makes it look more aesthetic, making it one of the best vertical blinds for sliding glass doors in terms of outlook.
This one's made of 66% paper and 34% poly. It offers five color variations, so you'll be able to do what suits you best. Just like the previous choice, this one offers Velcro attachment as well.
You'll be adjusting the width of these panels using the metal bar attached to them, and yes, it has a cordless design. There's a 2-stack control option that makes these even more convenient.
Two stack control option makes it convenient to adjust
The bottom can be trimmed to adjust the height effortlessly
You can clean these easily as they're made of natural woven fabric
The metal slide adjustment makes it more durable than corded designs
If the light falls directly on the blinds, people will be able to peek inside
---
3. Blackout Patio Door Curtains Bedroom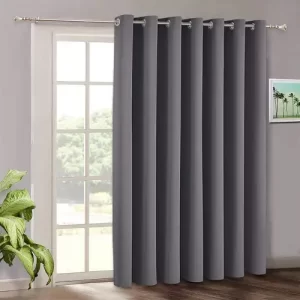 If you prefer curtains over blinds, then this choice from Blackout Patio may be of interest to you. These come in 15 different colors, so you'll be able to pick from a very wide variety. However, a good outlook isn't the only thing that it offers, as it offers great features as well.
You can get these in five different dimensions, and each combination offers a different length and height. If you want to block natural light completely, then these are the best window coverings for sliding glass doors that you can get for yourself.
Then again, light's not the only thing these block. They will insulate your room thermally as well, thanks to their thickness. You'll be able to block moderate gusts of wind too.
The fabric is made of triple-weave technology. Thanks to that, the thick panels can block 80-95% of the light.
The thickness of these curtains ensures maximum privacy
Triple-weave technology allows these to block 80-95% of lights
These block heat as well as the wind from outside
Offers 15 colors, so there's a wide variety to pick from
Adjusting the height can be a challenge as these are tough to trim
---
4. CHICOLOGY Vertical Blinds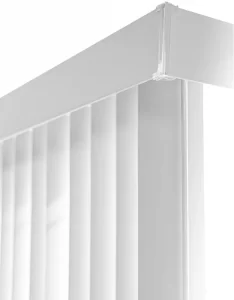 You should consider these vertical blinds for sliding doors from CHICOLOGY if you want cordless vinyl blinds. These offer the same taste as the classic cordless vinyl blinds but with a touch of modern features.
These come with a built-in high-quality metal wand that can smoothly glide the panels in the direction you want to. As for their facilities, they've been constructed to block light coming from the environment. They can provide adequate shade even on the sunniest days.
Other than that, the package comes with a matching valance as well. You can choose from three color variations are Gold, Silver, and White. All of these are made of high-quality vinyl.
Comes in three color variations, all of which look elegant
High-quality vinyl slats will last quite long
The cordless function is not only smooth but durable as well
Comes with a matching valance for complementing the blind
The vinyl build feels a bit cheap
---
5. Custom Faux Wood Vertical Blinds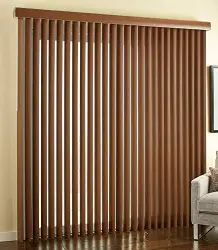 These Faux wood-made modern blinds for sliding doors are one of the best blinds with wooden textures. They offer tons of options regarding both their dimensions and their texture. The options offer so much customizability that it's not wrong to consider these custom blinds.
If wooden vertical blinds are your thing, then we'd recommend you order one of these from Spotblinds without any hesitation. They offer a ton of variety when it comes to the texture.  You can select from natural, maple, bamboo, Cinnamon, and even Walnut finish.
There's also an option for those who prefer white wooden finishes. There are four white finishes that you can choose from. As these are made of polycarbonate, the finish won't decay over time. So, you'll be able to enjoy the fresh look as long as you keep them clean.
The dimensions can be customized as per necessity
Offers different shades of natural as well as white wooden finish
Can be fit easily on bow windows as well
The polycarbonate build makes these super strong
The installation procedure is a bit troublesome
---
6. Graywind Motorized Roller Shades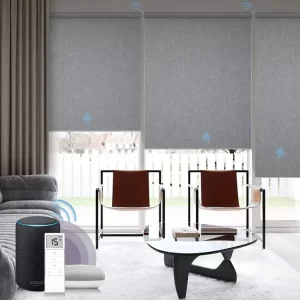 Next up, we have another set of fabric blinds for sliding doors, and these are from Graywind. What makes this special is that it's motorized; this means it's the most convenient blind that you can get right now. However, motorization isn't the only special thing about it.
These are built with the triple weave technology that you can find in only the best blinds. Thanks to this, these blinds will be able to insulate your home from external heat as well as wind, making it thermally balanced. It'll also take some toll off of the cooling system of your home, which makes it an energy-saving solution too.
Its built-in motor is equipped with a high-quality lithium battery that's designed to save energy. The motor itself is quiet for providing a peaceful experience. You'll be able to expand or retract these shades using a remote control. You can customize the dimensions as per necessity, which is another plus.
The dimensions can be customized as per necessity
It's a motorized shade, so you'll be able to expand or retract it without direct interaction
Triple weave technology makes it extremely durable and anti-fray
Will insulate your home from external heat and wind
Costs almost twice as much as most other blinds on the market
---
7. LETUA Solar Vertical Window Blinds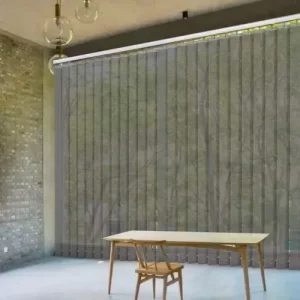 There are no better horizontal blinds for sliding doors than the one LETUA is offering. A lot of people prefer cordless blinds, but this product will change their minds. Everyone who's a fan of the traditional corded blinds should take a look at this.
Made of 5% mesh fabric, these blinds from LETUA are capable of blocking 50% sunlight. Moreover, these can reduce sun glare and can block out the harmful UV rays completely.
Furthermore, they are fire retardant, meaning they aren't a fire hazard. They will also allow some form of breathability and ventilation.
You can tilt these to open, or you can simply put them away by pushing on them horizontally. The installation procedure is easy, and the high-quality craft is long-lasting as well.
Offers many different color variations
Blocks 50% sunlight, reduces sun glare, and blocks UV rays completely
These are fire retardants, which means they are safer than other blinds
Offers two opening options for added convenience
The screws provided in the package aren't high-quality
---
8. LETAU Sliding Panels Track Blinds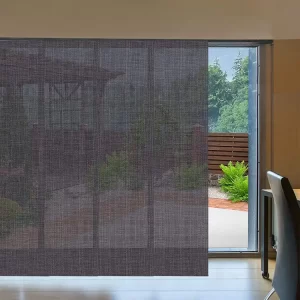 Last but not least, we have these roller blinds for sliding doors from LETAU. These simple yet elegant blinds offer a ton of features that can make your life easier. They won't block sunlight completely. However, they will block the harmful UV rays.
Furthermore, you can expect the room temperature to fall considerably while these are used. They'll also reduce the sun glare. If you want blinds that can keep you safe from the sun without blocking sunlight completely, then these are perfect for you.
As for the color, it comes in 10 different colors, and you can find both muted and bright selections. As these are well-built and very thin, you can use them as a room divider as well.
Overall, if you want thin and transparent blinds that can block UV rays while letting some sunlight permeate, then you should get these.
Built to allow some sunlight into your room
Will block harmful UV rays and reduce sun glare
Can be used as a room divider as well
Flame retardant and offers air to pass through
Doesn't offer any privacy
---
Things to Consider Before Buying Sliding Doors Blinds
Whether you're looking for new or replacement sliding doors blinds, it's important to pick something that'll complement your home and your lifestyle. In this section, we'll discuss how to pick the best blinds.
Light
People usually get blinds for blocking the sunlight. However, everyone doesn't prefer blocking the same amount of sunlight. This is why you'll find that different blinds block a different percentage of light.
If you want to block sunlight completely, then you must get something thick like a curtain or a drape. If you don't want to block light totally, then you better opt for blinds that offer an opacity that's suitable to you.
Irrespective of that, make sure that the blinds block UV rays and sun glare, as these are harmful.
Privacy
Another major reason behind getting blinds is privacy. Now, this is completely up to you, but if you're getting blinds for your living room or any room on the ground floor, you better take something that'll block vision completely.
In such cases, it's not always necessary to opt for heavy curtains as some thin blinds can block vision well too.
Convenience
Another major factor is convenience. As you can see, there are different types of blinds. You can either get a corded one, a cordless one, or even a fully automated one. While fully automated blinds provide maximum convenience, they can be expensive.
Cordless blinds are highly recommended as they provide a good value for money. If you want, you can go for corded ones too. Although cordless ones are considered superior to these, a lot of people prefer these traditional ones.
Style
Last but not least, it's important that the blinds complement the décor of your room. This is why we highly recommend getting something that will look good with the rest of the room.
FAQs About Sliding Doors Blinds
1. Is Getting Fire Retardant Blinds Important?
This isn't an absolute necessity, but we recommend going for them anyway. If the material of the blinds is flame retardant, then it will make a living much safer, and you'll have a higher chance of survival if your house ever catches on fire.
2. Are Corded Blinds that Bad?
Although cordless blinds that come with metal wands are considered much superior, corded ones aren't that bad either. If you aren't that keen on making a high investment, then getting a corded one won't harm you.
3. Are made-to-measure Blinds Better than off-shelf Ones?
Yes. Off-shelf blinds can't be customized in most cases. While some blinds come made with trimmable fabric, most don't. You won't be able to match them to your doors if you aren't cautious enough.
On the other hand, you can't go wrong with made-to-measure blinds. This is why these are recommended over the off-shelf blinds.
Conclusion
Now that you've taken a look at the best blinds for sliding doors, it's time to decide which one will suit your home best.
We believe that every product related to this has something unique to offer, and there's no universal best. Still, we'd highly recommend the GoDear Design Deluxe Sliding Panel Track as it offers the best designs, features, and most convenience.