Cost to Install Pull Out Shelves in Kitchen Cabinets!
A pull out shelf doesn't require you to bend down for what you need in the kitchen. Instead, you can take almost the whole drawer or shelf out to get what you need! Yes, it surely is easier for everyday kitchen life. But well, before you install it, you have to sum up the whole cost!
Here, we will explain what you need for installing pull out shelves in your kitchen. Along with that, we will discuss the average cost to install pull out shelves in kitchen cabinets. Let's get in!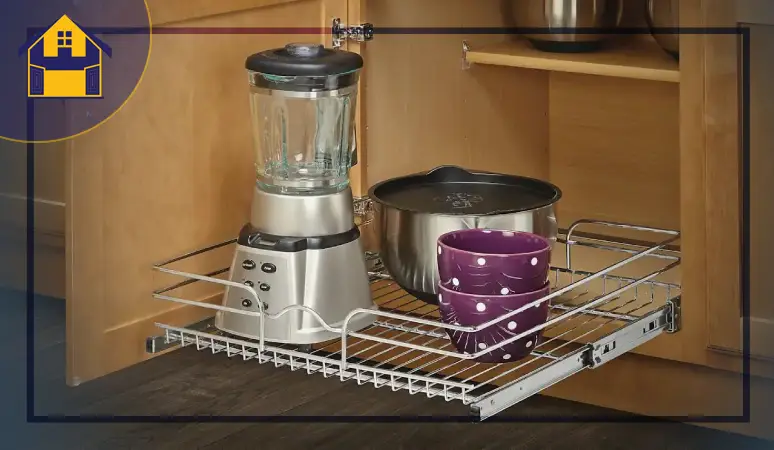 The Total Cost for Pull Out Shelves
Pull-out shelves for kitchen cabinets are also known as rollout or rolling shelves or drawers, slide out trays or sliding shelves. No matter what they are called, they do the same job- make your work easier and save your time!
The Pull Out Shelf
The first thing you need is the pullout shelf that you want to install in your kitchen cabinet. The price of the pullout shelves differ from one material or construction to the size.
Construction of the Pullout Shelves: Thee pull out shelves can be designed with several materials. The plastic pulls out shelves are the least expensive ones. The most afforable ones have a plastic construction that you can get from $10 to $30. You can also get fiberglass pull out shelves and these will cost you a little more.
You must pay $30-$70 for these. As aluminum, or chrome plated ones along with the stainless steel ones will hold heavy items, these will cost higher from $70 to $100 or more. For wood or plywood however, the price depends on which material you are relying. These are strong and can hold heavy items.
Size of the Pullout Shelves: The size of the shelves also matter when it comes to the price. If you are settling for a 6-inch to 26-inch shelve, you might need to spend $40-$50 or close amount. On the other hand, for the premium shelves, you have to spend more than $60. In some cases, people refer buying tall and double set pullout shelves.
Spend $80 to $110 and you will get an amazing set for you. In the case of the sliding bread boxes and the similar ones, you need to pay $100 to $120 or close.
Store Bought Rollouts
Well, you can simply switch to rollout baskets too. These store-bough rollout baskets will cost you more or less $10. In some cases, you might need to pay more up to $100 too. This completely depends on the hardware of the rollout baskets.
If the hardware quality is high, you might need to pay a bit extra. For the heavy items, settle for the chrome-plated rollouts. These will cost you extra. On the other hand, if you go for the epoxy-coated ones or the plastic insert ones, use them for light-duty items.
These are less expensive. You can add these with the shelf brackets easily. If you want them, check out the best floating shelf brackets here!
DIY Pull-Out Shelves
So, are pull out cabinets more expensive? Yes they are! If you DIY them, the cost will be nearly half! Here is how you can make DIY shelves for your kitchen the cabinet. To make the simple roll out drawers will cost you about $20 or less.
With this amount, you can create a simple roll out drawer or shelf with all the necessary appliances you need. For, you have to check out the router bit for door hinges or cabinet along with the bolts and nuts too.
If you want to add pull out shelves to all the kitchen cabinets you have, this will cost you $50 to $90 depending on the size of the kitchen and the cabinet. Here is a list of appliances that you might need for the installation. We have noted the average price for them too.
Material: The construction material depends on you. You might want to go for metal or good, whatever you prefer. The wood rollout shelves are the easier ones. Basic woodworking skills are enough for the job.
We recommend you to use plywood for the job. For birch or oak, every 4×8 hardwood sheet will cost you about $20 to $60 depending on the size of the shelf or drawer you want to create.
Roller Slides: You will need roller slides on plastic wheels to make the pull out shelves work. The best part is they are quite inexpensive. And installation is a breeze for these. Go to the shop and you will get them as the names under mount, bottom mount or side mount.
These are capable of carrying 30 to 100 lbs. Get them within $3 to $10. However, if you plan to keep heavy products, go for the weight capacity of 100 lbs.  Also, check out the router bit for cabinet because you need it too!
Ball Bearing Slides: You can rely on ball bearing slides too. They will help you extend the fill drawer or shelf while the previous one will only give you accessibility to three-quarters. Another amazing fact is they can bear 75 to 100 lbs. or more. The price stays the same from $3 to $20 or close. But here, you can get the 200 lbs. weight capacity one too. In that case, you have to pay $200.
Additional Gears: If you are a DIYer, you already have the necessary gears that you need for the project. You will need a drill along with the perfect drill bit for making holes. Also, depending on the drill bit, you have to settle for the bolts, nuts or screws.
Don't forget to take a look at the best cabinet hinges to keep the rollout shelf strong it its position. Screwdrivers along with glue will be required for keeping the shelves in place and that's all. From 6 screws to 8 screws will be required for the job. These will cost $2 to $10. You will need a drawer pull or a knob to open the shelf.
For the whole cabinet, you have to invest $100 to $300 for drawer or shelf pulls. For single, however, the price will be less. Along witht he other equipment, you will seen 120-grit sandpaper and spray lacqure. But these usually stay in our house already.
Installation Cost
As we have told you, if you settle for a DIY installation for your pull out shelves, you don't need to pay more than $40-$90 if you have the basic equipment available for you! However, in the case of installing it through a professional, you will need to spend $140 to $150.
So, if you are ready to spend extra, you can go for the an expert. But if you want to save money, the best deal is to save almost $42% and go for installing it on your own.
Installation Time
For construction the pull out shelf and installing or mounting it, you have to invest 4 to 6 hours depends on how much work you have.
For the professionals, this is tough hire a person because the work is so small and nobody usually wants to do if you need to install only one rollout shelf. But for the whole cabinet, you can hire a professional. They will need less time than you.
Wrap Up
We have discussed almost everything you need in terms of installing the rollout shelves. Also, the cost for the single shelf along with the whole cabinet is mentioned too. Make sure you, once again, calculate the total before you install it.