Knobs or Pulls on Shaker Cabinets?
One of the simplest ways to revamp a kitchen without breaking the bank is modifying the cabinets. The deal becomes even better with shaker-style cabinets because their doors are so flexible and easy to accessorize. Their simple, pristine lines are quite outstanding, especially when paired with the right hardware.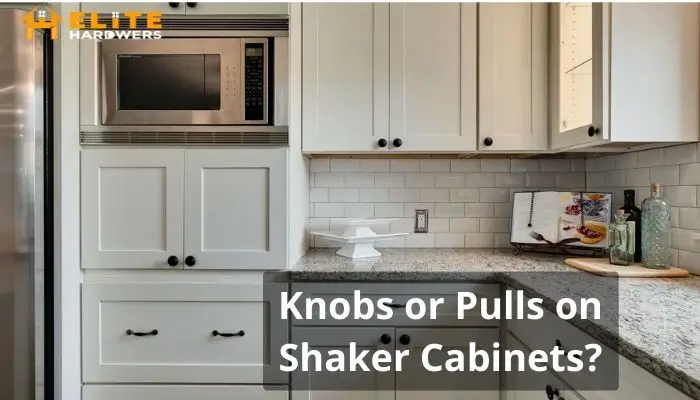 Swapping the kitchen hardware a bit is also a wonderful way of creating a new face. Most modern homeowners are opting for pulls and knobs when remodeling their kitchen spaces, and the results are to die for.
The good news is that nearly all stores have a broad range of these decorative elements. 
This piece is an eye-opener for people who may not know what to choose between pulls and knobs. The details below are clear and suggest some of the unique ways to fix handles. 
Knobs or Pulls on Shaker Cabinets- Is One Better Than the Other?
The choice between cabinet knobs and pulls is purely about one's preference. These two elements have great functionality and avert oily messes from reaching the cabinet fronts. As such, there's no rule of thumb when it comes to choosing between them. 
Ideally, what you consider here is the use of the component. Like, using pulls on large doors and drawers is not just appealing, but also convenient. They make it very easy opening the doors, although you've to carefully decide where to put handles on shaker cabinets. 
Knobs Vs Pulls- Differences and Functionalities of Each 
Choosing cabinet hardware is a personal matter. But, you must also ensure it blends well with your kitchen while offering much-needed comfort. Knobs are more like the door knobs, only that in this case they are smaller.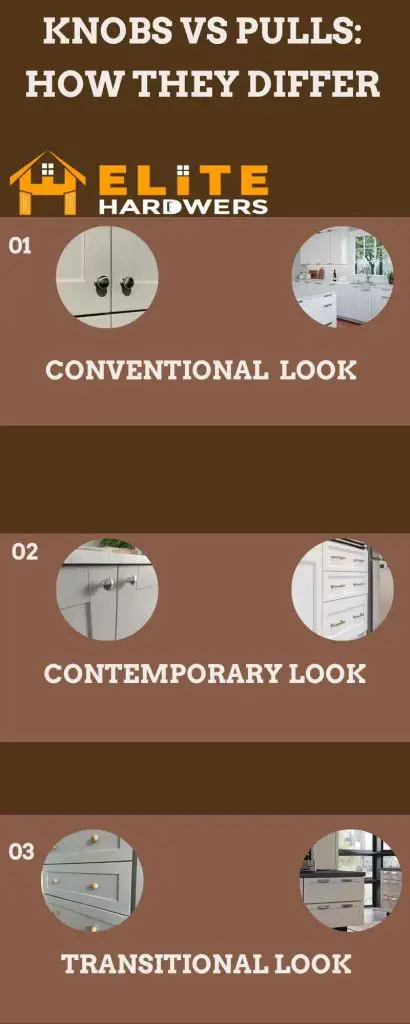 Pulls, on the other hand, are relatively bigger, but thinner. They are a bit recently so you're likely to find them in most modern homes. Also, pulls come in varieties like cups, bars, and rings. 
If you're not sure what matches your kitchen design, most probably you're wondering- what kind of handles go on shaker cabinets? Also, can you mix both pulls and knobs on your cabinets? While you have plenty of room to blend kitchen handles, avoid a mismatch that may make your kitchen look disorderly. 
Below are some tips you can use depending on your taste and preference. 
Conventional Look
If you want to have a traditional yet vintage look, you can install a ceramic knob and affix an elaborate pattern on it. Such a design gives your shaker cabinets a more detailed look while maintaining a traditional touch. 
Contemporary Look 
For an all-modern look, you should keep the details simple. Stainless steel pulls sit best with pure white shaker cabinets. It gives you a classic, yet simple look that every modern homeowner yearns for. 
Transitional Look
If you want to achieve a warm, but up-to-date look, you can blend the details such that you have both knobs and pulls blended together. The best thing about this design is that you can personalize it fully. Place the knobs and pulls at any place you wish, but ensure you achieve a smooth finish to avoid ending up in a chaotic space. 
Factors to Consider When Choosing Between Pulls and Knobs 
Cabinets are the in-thing in today's kitchens. It can be frustrating getting something wrong when you're set to invest in them. After deciding on shaker vs flat panel cabinets, now factor in whether your kitchen design and budget accommodate what you desire. Below are some of the aspects you should consider.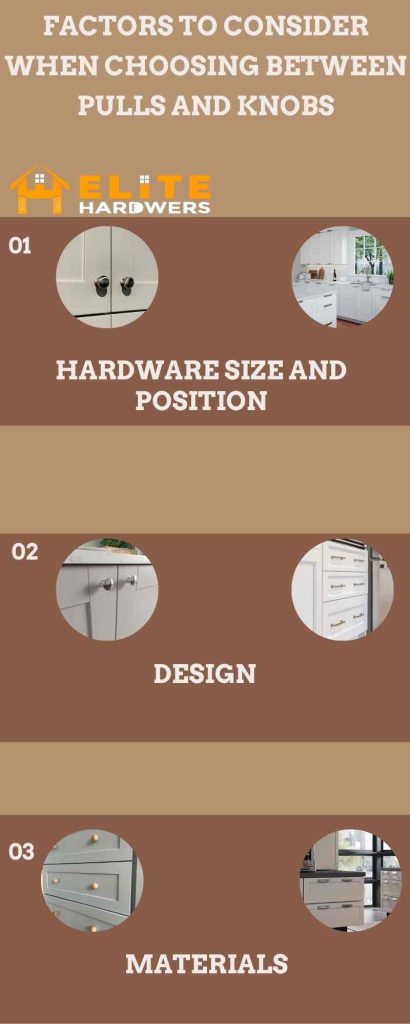 Hardware Size and Positioning 
Any cabinet hardware you choose must be proportional, functional, as well as possess a high aesthetic value. If your shaker cabinets are sizable, you'll need proportional pulls or knobs to function properly. 
Professionals advise that cabinet drawers should be three times more than the pulls. But, homeowners seeking a more sleek and up-to-date look could install slightly longer pulls. 
Design 
Both pulls and knobs come in a variety of designs. Before rushing to install pulls or knobs, first assess your kitchen's general design. Discussing it with your family members will yield even better results.  
If you can choose decorative hardware with a similar look to that of your space, it would look quite modern. But, do you put handles on shaker cabinets? Yes, ceramic knobs and circular glass handles will give your kitchen space an amazingly classic look. 
Material 
Kitchen decorative handles come in different materials ranging from metal alloys, bronze, pewter, stainless steel, pewter, and brass. Glass and ceramic are also sensational alternatives for a classy homeowner. Brass, for instance, is known for resilience and its antimicrobial nature that averts germs spread. 
Bronze also has an antimicrobial effect, only that it sits best with thick, wooden cabinets. If you're looking for an easy-to-maintain and durable material, go for stainless steel without batting an eyelash. The bottom line is identifying what works best for your space. 
Whatever you choose, you can get help from the following videos on installing pulls and knobs to your cabinet.
Final Words 
By now you should have identified what you need to achieve that polished look engraved in your mind. But, before purchasing, research a little more and check out various designs on the internet. Better yet, you can order samples and check how well they match your kitchen finishes. 
Whatever choice you make, ensure it aligns with your budget. These decorative components are quite popular and readily available today. You can find them in nearly all kitchenware stores. That said, the price is likely to be very competitive, so you should check several stores and compare.