Try These 5 Tips to Make Oak Kitchen Cabinets Look Modern!
Back in the early 90s, the most popular choice for kitchen cabinets was the oaks. Their old vibe might not go with today's trends. So, many people look for ideas and ways to use them but still with the touch of modern elegance.
While it's possible to make them shine in the kitchen, but the techniques need to be working and effective. As most Americans change their kitchen cabinet once in 10-15 years, retrofitting will bring back the nice energy.
Now, take a sip from your coffee! Start reading this guide to know exactly how to make oak kitchen cabinets look modern by making tiny changes that beautify the overall look.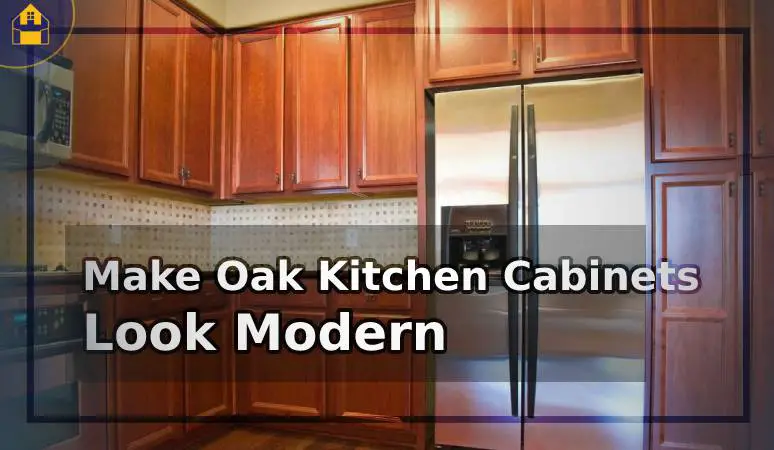 How To Make Oak Kitchen Cabinets Look Modern!
Transforming the old oak cabinets won't require hard and fast changes but need some simple fixtures and elements. You'll see some of the nicest updating oak kitchen cabinets before and after ideas down below.
Select Shelves Matching with Oak Cabinet Shade
Modern kitchen with oak cabinets will look cool if you add shelves right in the middle of wall. Avoid using similar shades of cabinets (meaning orange, brown, or beige) for shelves. Instead, go for challenging colors like green, black, or dark brown, white, etc. 
Another point that you should think about is the space. Based on this single thing, use any kind of sleeves on the wall, big or small.
Add Decorative Stuff on The Base Cabinet
Changing kitchen theme to something unique might make the old cabinet modern. It can be a flowerpot or something hanging on the wall like pictures to add beauty. Here are some of the decorative stuff ideas for oak cabinets.
Bar style chair. 
Vintage mirror.
Family photo.
Vintage bakery or pot.
Tall hand-made vases. 
Ceramic art pot.
Custom design letters.
Small & large baskets.
Marble stuff. 
Dreamcatcher.
Tip: Just place decorative items that look modern and bold above the base oak cabinet in the kitchen.
Install Unique Fixtures in Kitchen (Top Section)
Upgrading some rare fixtures above the kitchen like lights, chandelier, and hanging stuff will positively impact on the whole look.
However, you need to select carefully to match the style of the oak cabinet (since you want to focus on this kitchen fixture only). The number doesn't matter you can add fixtures as much as you like. 
Focus on the lighting which should look elegant and modern to beautify the appearance. Try to add at least 3 to 6 lighting fixtures in a straight-line position on the top to make the oak cabinet shine. 
You can also add some unique and handy appliances like a dish drainer, container, knife cutter, and similar things on the base oak cabinet to highlight the modern vibe.
Add Countertop on Base Oak Cabinet
Anyone who want to know how to make oak kitchen cabinets look modern without paint should try focusing on the countertop. 
It's a great kitchen fixture that stunningly impacts the cabinet look. Since it is placed on top of the oak cabinet, you can choose any shade (not necessary to match with oak).
Suppose your cabinet is beige in shade try choosing a countertop that is plain or veined white. Like that, you can pick black, grey, and even beige to modernize the look of old oak cabinets.
Paint The Oak Kitchen Cabinets
The trick you can try to make oak cabinets look stylish is paint. So, if you are thinking 'should I paint my oak kitchen cabinets', why not? A simple painting can save tons of bucks rather than placing stuff or fixture. 
I would recommend trying lighter shades to pain in the oak cabinets to increase the kitchen space. Plus, it'll look big, modern, and classy. Exactly how to make light oak cabinets look modern with paint? Here are some tips for you.
Pick a color that contains a purple or blue undertone to ensure pigmentation of a light shade. This thing helps hide the orange tone of oak better and deeper.
The best shades to paint the oak kitchen cabinet are plain and basic colors (white, grey, black, and neutral shades). You can also mix and match colors like paint black base cabinets with white wall cabinets.
Use a good-quality latex or enamel to paint the oak cabinets like the INSL-X CC560109A-01 Enamel Paint.
Overall Thoughts
That's how to make oak kitchen cabinets look modern! You have enough ideas which help remodel the looks of the cabinet without making tons of changes.
Just think about your kitchen aesthetic then put the right decorative items that improve the look of the cabinet like magic.
So, which idea you'll try to make your oak kitchen cabinet look classy? Whatever your choice is, be confident and if it looks good in your eyes stick with it. Good Luck with That!