Where To Put Knobs And Handles On Kitchen Cabinets?
There is no way to look past kitchen cabinets when it comes to kitchen decoration. And the look of a cabinet depends quite a bit on what kind of knobs and handles are on them. Style, design, shape, and material of knobs can make or break the premium feel of a kitchen.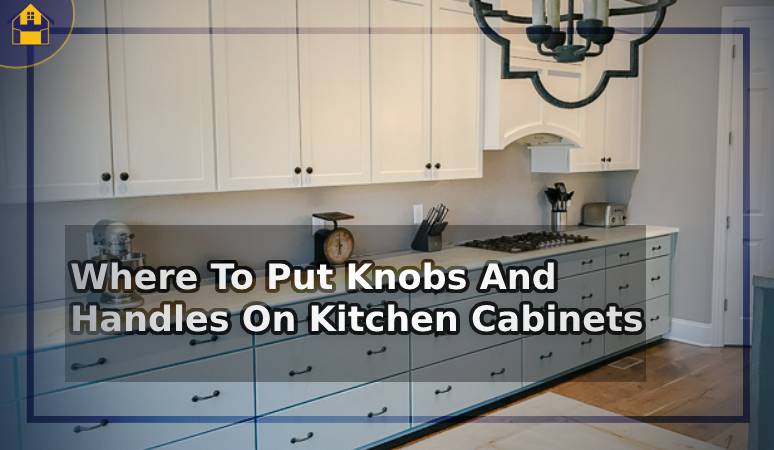 Design and functionality are the two most crucial factors one should consider for knobs and handles. And it would still look messy if it is not placed correctly on the cabinet. So, in this article, we will elaborate on where to put knobs and handles on kitchen cabinets.
Types of Cabinet Knobs and Pulls
In this segment, we will elaborate on various types of knobs and handles that have unique features of their own.
Knobs
It usually comes in circular or round shape, and they are attached to the cabinet by a single screw. That being said, cabinet knobs come in many shapes nowadays. Such as T-shaped, geometric, square, cylinder, hexagon, and more. Everyone knows knobs are a very old and traditional choice; you can choose your knob from multiple shapes.
In the old days, knobs used to be made of metal only. But now, you can find them in any popular material like crystal, glass, acrylic, wood, leather, and even natural stone.
Knob uses only one screw, so it's easy and doesn't damage your precious cabinet. Later if you are not happy with the length or positioning, you can change it because it doesn't require much drilling, so you won't have multiple holes. 
If you want to keep the damage to your cabinet to a minimum and you are not really sure where you want to place the cabinet hardware, then you can go for the traditional knob without a second thought.
Pulls
Pulls are another great option. Pulls get a plus point on the functionality because it's much easier to grab and hold onto. If you are looking for style, then pulls just might be for you! There is almost no design that they don't have. Modern, carved, classic, sleek, pretty much any style you can imagine of, pulls got you covered.
Pulls come in any size and shape. So before you make a purchase, keep in mind the size of your cabinet. Purchase pulls according to the size of your cabinet and proportionately.
Cup Pulls
Cup pulls, also known as bin pulls, have a similar shape to a cup. Sleep your fingers underneath the pull, and you will have a firm hold of the pull. Easy, comfortable grasp and high functionality is cup pulls trait. Not to mention they are very stylish too. In the victorian-era kitchens, they first became popular and still going strong.
The quality of cup pull can be said to be timeless. They come in a variety of shapes and sizes, so they go well with vintage, farmhouse, transitional and traditional styles.
Finger Pulls
Finger pulls and edge pulls, also known as tab pulls, are modern and have a sleek dynamic. The interesting thing is that the installation method of this pull is completely different from any other cabinet hardware.
Instead of screwing it, finger pulls are mounted on the bottom or top edge of the cabinet door.
If you have a slab door-style cabinet, then finger pulls would be a perfect match for it. 
The minimalist and sleek look of finger pulls will always blend in with the style of your cabinet and won't stand out.
Where To Use Knobs And Pulls
Many of you must be thinking, should I use knobs or pulls on kitchen cabinets? There is no fixed rule on where to use knob and where to use pulls; it all comes down to personal choice. But generally, people use pulls for drawers and knobs for doors.
If you want, you can use pulls for drawers and doors interchangeably. The same goes for knobs. You can use both or just one of them for your cabinet door and drawers. So you should not be conflicted on knobs vs pulls on kitchen cabinets.
Cabinet Knob Placement on Doors & Drawers
Follow the below instruction for knob placement on doors and drawers.
Knob placement
You should put the knob on the stile across from the door hinges. Usually, knobs are placed 2-½ inches to 3 inches from the corner of the door, across the hinges. When you want to place the bottom knob or handle, again 2-½ inches to 3 inches from the peak of the cabinet door, across the hinges.
And for the drawer, try to place the knob in the middle of your drawer. Traditionally knobs are placed in the center of the drawer both vertically and horizontally. 
Pulls Placement
A general question we get is, Where should pulls be placed on kitchen cabinets?
Traditionally pulls are placed vertically on a cabinet door. The placement of pulls is very similar to knob placement. Use the same range of 2-½ inches to 3 inches for the upper cabinet to place the bottom screw, and the top screw will be placed according to the length of your pull.
For the bottom cabinet, just do the opposite. Place the pulls on the stiles of your cabinet door. They shouldn't fall into panels or rails.
Pulls are placed horizontally on drawers. Just like knobs, pulls are placed in the center of drawers.
Finger Pulls
For upper cabinet doors, place finger pulls on the bottom corner, and for lower doors, place finger pulls on the top corner. So the upper pull and lower pull will look like one single long pull when the doors are closed.
Make sure to put them on opposite sides of the hinges.
For drawers, place finger pulls in the center.
Conclusion
Now that you know all the rules and regulations of where to put knobs and handles on kitchen cabinets, we hope you won't have any difficulty installing them and making your kitchen stand out. If you don't like the traditional way of installing them, then feel free to change it according to your taste.
Remember, there is no set rule that you must follow here. And if you are thinking about how to hide screw holes in cabinets, just use wood putting to fill them up.