Exploring Barn Door Vs Regular Door! (Complete Guide)
Adding good appearance and functionality in the entrance, two of the popular choice for ordinary folks are barn and regular door.
While the barn door is super convenient to fit into small spaces, the regular one might be excellent for larger and open rooms.
So, who will win in between barn door vs regular door? Let's find that out!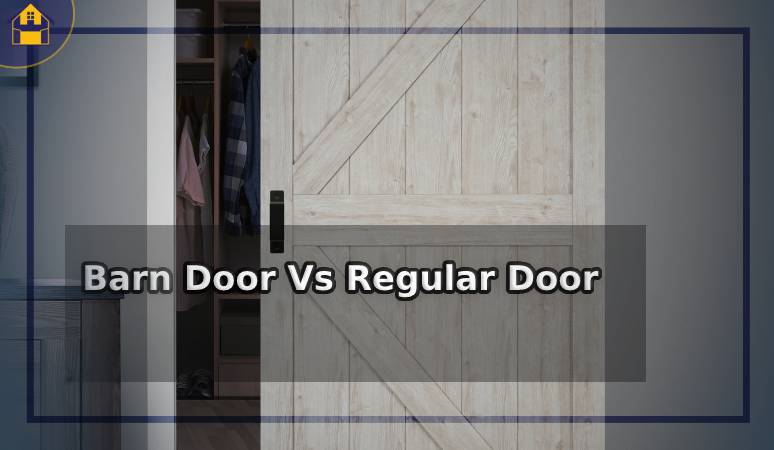 Comparison Points of Barn Door Vs Regular Door!
Understanding the differences is essential to determine a winner from the two doors. You will find all the stuff which makes barn and regular doors dissimilar down below. But hey, if you are planning to buy one of those, be sure it contains quality while staying rock strong. 
Then, there's the S&Z TOPHAND Barn Door which rocks to stand longer while offering almost all accessories needed for easy installation. 
The Looks Aren't the Same 
By looking at the material, you can think of using regular door as barn door, in reality, it still would look different than the standard one. To begin with, the barn door owns the rustic style which is typical woody. 
It contains an old but cool finish and appearance which doesn't suit all homes, especially modern or contemporary houses. This would be ideal for country, rustic modern, cottage, or maybe farmhouse style homes. 
Then again, the regular door is usable in most home styles including contemporary or modern houses. It comes in different designs so that you can pick a unique door that is suitable.
Winner: Regular door as it literally has a basic and stripped-down door that adds value and beauty to most residences.
Their Space Management 
If you look at both doors side by side, you'll notice the regular door takes more space with or without the frame than the barn door. This basically means it'll need a bigger and open area to be installed perfectly.
Which is quite the opposite of the barn door since it can be fitted inside a small space or area. Plus, the barn door doesn't swing out much which makes it ideal to fit in washrooms, closets, or similar spaces. In case your barn door swings a lot, look for the best barn door floor guide here.
Winner: Barn door for small zones without using more room.
Barn Door Vs Regular Door Cost
The price tag of the barn and the regular door isn't close due to the accessories and other aspects.
I can almost hear you are thinking about how much barn doors cost, the answer is around $500 to $1,200 on average (including material + labor).
Keep in mind the regular door doesn't come with a frame or additional hardware and it will cost around $250 to $900 in general (including material + labor). You can pretty easily see which one is cost-efficient while sharing similar qualities and traits.
Winner: It is surely the barn door for extras while having nice characteristics.
The Dissimilarity of Maintenance 
Technically, the regular door doesn't require more care than the barn door. With an ancient appearance in the home, the barn door will definitely need filler, primer, sealant, and paint to improve the looks over time due to the cracks and uneven surface.
Plus, you might need to clean a lot if using the barn door. Conversely, the regular door might not require daily maintenance along with basic repair unless the condition is severe. To hide flaws, you can try the SEISSO Wood Repair Kit by matching the door color 
Winner: The regular door is good for long-term use with less care.
Regular Vs Barn Door Pros and Cons
Barn Door
Advantages Of Barn Doors:
Good for small space of the door frame. 
Takes less effort to install. 
Ideal for exterior use.
Easy to cover up patches.
Hold rustic vibe.
Disadvantages Of Barn Doors:
Bulky in weight and not versatile in style. 
Expensive. 
Slab Doors
Advantages Of Regular Doors:
Not expensive than barn doors.
Stay nice looking for a long time.
Vintage in appearance.
Flexible design.
Required less care.
Disadvantages Of Regular Doors:
Takes a lot of space. 
Need carpentry help to fit. 
Overall Thoughts
The battle between barn door vs regular door is finally over. And you can pick a winner based on the benefits and drawbacks both holds.
In my opinion, both do a great job to raise appearance in a positive way and confirm the durability that a home strongly needs.
But I find the regular one better due to its affordable range, low maintenance, lightweight frame, and flexibility. However, it might take more space while requiring carpentry help to install the door.
On the other side, the barn door is pretty easy to install, space-saving, hides patches due to its rustic look and suits the entrance door. This does contain handful of bad sides like the high price and heavy feel.