How Much Does it Cost to Install a Storm Door in 2023?
Having the thought of installing a storm door might make you wonder whether it will cost you a fortune or not. If you are looking for price estimation, you have to consider the additional costs besides the door cost.  Several factors impact the cost to install a storm door. 
It varies depending on its size, materials, brand, and other factors. But it usually costs you around $300-$1500. Therefore the average cost to install a storm door would be somewhere around $900. For lesser features, it will cost less.
To clear your doubt, let's assess the total installation cost of a storm door. I will be explaining as per types and brands.
What is a Storm Door?
A storm door is a useful door that works as a shield/protective layer to your main door. As the name suggests, this secondary door gives the main door protection from calamities or harsh weather. Also, the screen mesh allows adequate airflow inside the house and protection from flies.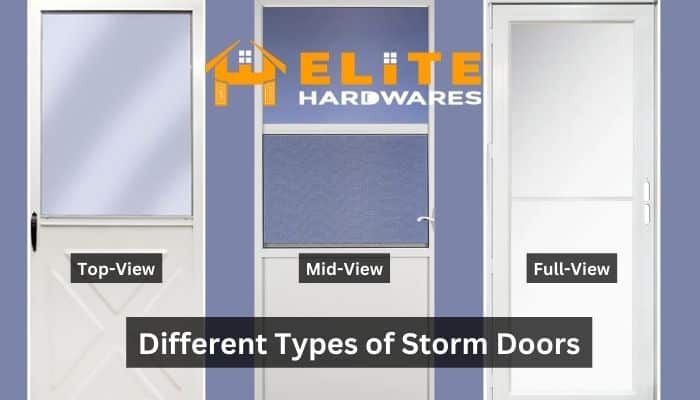 Now Let's get to know the types to get a clearer picture. 
How Much Does it Cost to Install a Storm Door?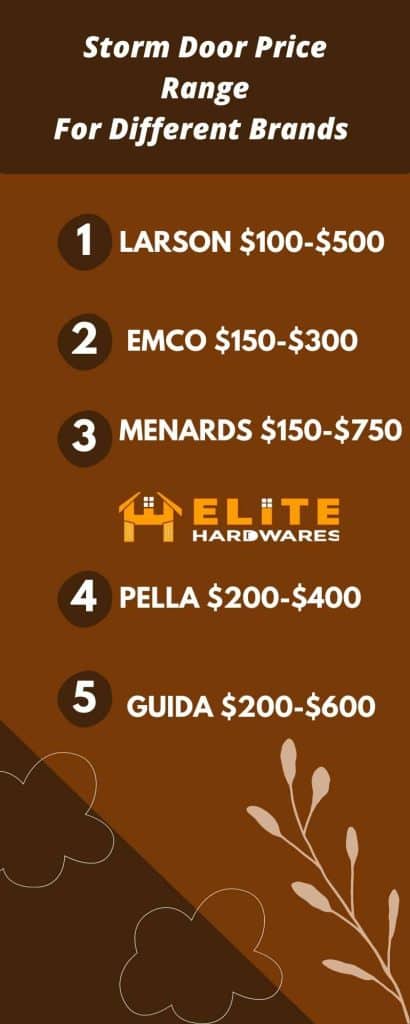 While assessing the cost, you have to keep in mind – the door price, labor price, and additional cost. The door price depends on its type, brand, and the materials used in them. Let's provide you with a table presenting the price ranges for different types of storm doors.
A Glance on the Cost of Storm Door by Type
| | |
| --- | --- |
| Types of Storm Door  | Cost (Approx) |
| High-View | $100-$250 |
| Mid-View | $150-$250 |
| Full-View | $200-$450 |
| Low-E-View | $200-$550 |
| Retractable screen | $200-$600 |
| Self-Storing  | $250-$450 |
| Beveled Glass | $300-$400 |
| Ventilating  | $300-$500 |
| Security  | $350-$700 |
| Double  | $600-$1000 |
Brief Description on the Cost to Install a Storm Door
You bought a storm door for your house or office, now it is time to get it installed. So you have to count the installation fees as well. 
Labor Fee
Labor costs may be determined on an hourly basis. The standard labor cost for installing a storm door is somewhere between $85 to $550. 
The fee depends on the type of storm door you want to install. As it can either increase – if the structure and installation procedure are complex, or decrease the amount of labor to put into mounting the door. 
You can also watch this youtube video to get an idea of the cost of installing a storm door.
High-View Storm Door  
As the name suggests, you get the topside view of the opposite side from the top door portion. High-view storm doors are comparatively easy to install and hence are quite affordable – prices range from $100-$250.
Mid-View Storm Door
Divided in the middle, mid-view storm door glasses allow you a broader view combining the upper and middle portions. Prices range from $150-$250, and they, too, are on the side of the affordable purchase.
Full-View Storm Door
With a full glass body, full-view storm doors give you a complete sight of the opposite side. As the whole body is made of glass, the price range rises and is usually between $200-$450.
Low-E-View Storm Door
The price ranges from $200-$550. The sunlight carries Ultraviolet and other harmful rays that are not kind to the human skin. 
Low-e-view storm door glasses protect against Ultraviolet and Infrared rays. This will provide you as well as your wooden door protection from direct sunlight. 
Retractable Screen Storm Door
The price for a retractable screen storm door ranges between $200-$600. What's special about retractable storm doors is that their screens can be rolled up anytime. 
This gives you the control to retract the screen whenever you please. Therefore you have better airflow coming into your house without worrying about flying insects. 
Self-Storing Storm Door
You also get control over the glass panels in self-storing storm doors. The glass panels can be moved up and down as wanted. The price range is between $250-$450.
Self-storing storm doors provide more flexibility with better air ventilation and a light-passing system. Changing and cleaning processes of the panels are quite easy.
Beveled Glass Storm Door
The price ranges for Beveled glass storm door shuffles between $300-$400. They are chosen mostly for aesthetic purposes since the surface is decorated in beautiful patterns. 
Ventilating Storm Doors
The name itself gives us a clear idea of what they might be. Ventilating storm doors are designed in a way that you can slide the glass panel and create room for ventilation. The price ranges from $300-$500.
Security Storm Doors
Whereas most storm doors focus on protecting against harsh weather, security storm doors protect against unlawful entry. Hence, the price is higher, between $350-$700. 
This kind of door ensures safety against bad weather, and burglary, and at the same time is used for beautification. 
Double Storm Doors
Up until we have talked about single storm doors mostly. But if you require a double storm door, you have to spend a little extra.  You can easily get double storm doors within a budget of $600-$1000.
Additional Read: Can a storm door be used as an exterior door
Frequently Asked Questions 
Are storm doors costly? 
There are cheaper as well as costlier options for storm doors. It depends on what brands, quality, materials, and features you are looking for in a storm door. Within a budget of $250-500$, you can get a quality storm door for your house. 
 Can you install a storm door by yourself?
You can install a storm door either by yourself or with the help of a professional. The storm door installation process may appear daunting, but it is possible to install it by yourself. 
You may also read an insightful blog on how to paint hollow core interior doors.
Conclusion
Knowing how much does it cost to put in a storm door is important when you want to install one. The cost to install a storm door is on average $350-$800. 
However, you may have to spend a little extra if you are looking for a storm door that comes with more features and protection. You will also have to keep in mind the shipment and installation cost.