What Kind of Paint to Use on a Fiberglass Door? | Best Paints to Satisfy Your Painting Needs
Painting on a fiberglass door is a delicate step, not everything is compatible with one another. If the door is factory-coated and paintable, then you can think about what kind of paint to use on a fiberglass door. Prepare the door by cleaning, drying, and dulling it.
You can paint fiberglass doors using alkyd, acrylic, polyester, polyurethane, or epoxy resin. For optimal results, use a fiberglass-compatible hue. Oil-based paints may harm doors, so use them cautiously. Fiberglass paints come in matte, neutral, and gloss finishes. Choose whatever suits the decor and your needs.
Be sure to read further if you want to know how to paint fiberglass door smoothly.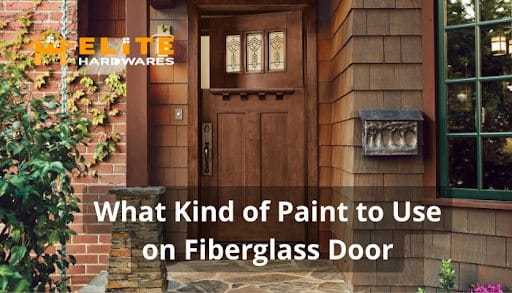 Benefits of Painting on Fiberglass
The first thing to think about is how much money you are willing to spend on the project. Using fiberglass paint is expensive and takes a lot of work. Additionally, epoxy-based paint is effective on a variety of fiberglass types, including the epoxy resin. 
Painting the fiberglass will protect the door from the elements, and improve its appearance. 
Paint created from polyester should be used instead of resin derived from it. Similar chemicals will improve the adhesion of the paint to the surface.
Consider Following Factors Before Painting on Fiberglass
The temperature of the area where you will handle the project should be between 65 and 90 degrees Fahrenheit and less than 60% humidity. 
Extreme humidity may cause the laminate to crack as it traps water droplets in the paint, dulls the coating, and dulls the paint. 
What Kind of Paint Will Stick to Fiberglass?
As all types of paints don't cope with fiberglass, you must know which paints you need to use on your fiberglass doors. Here are some recommended paints you can use on your fiberglass door. 
 Acrylic Paint
Before choosing, ask the door's manufacturer whether water-based paint is suggested. A sticker on the door's hinges may provide finishing instructions. Experts recommend 100% acrylic paint for satin or semi-gloss finishes. A pint of paint should cover a fiberglass door.
Alkyd Paint
Alkyd (oil-based) paint works well on fiberglass doors, although the drying time is long. Red or blue pigments degrade alkyd paint quicker in the sunshine.  Whether your color will last a long time or fade quickly, will depend on the manufacturer. Alkyd paint usually clings to glass, dry fiberglass like acrylic.
Bonding Primers 
Use bonding primer on smooth, varnished, or old fiberglass doors. Fiberglass doors require outside primers. Sticky primers, shellac, oil, oil-based slow-drying primers, etc, could be used. Acrylic paints can cover primers in hours. For best aesthetics and long lasting results, tint the primer or apply two coats of finish paint.
Gel Stain and Clear Varnish 
Before varnishing, gel stain tints fiberglass doors. Fiberglass may simulate wood when used correctly. Crafty people apply gel stains using a wood-grain brush or cloth. Water-damaged wood doors may be repaired. Add three clear coatings when the stain dries. You can always paint over it if you don't like the results.
Epoxy Resin
Doors made with fiberglass and epoxy resin are more expensive, weatherproof, and long-lasting than doors from polyester-based resin.
Gloss levels may be altered on fiberglass doors. High, normal, and low shine options are available to pick from. Before choosing the paint, consider temperature and sun exposure. Always use exterior-grade paint on fiberglass doors.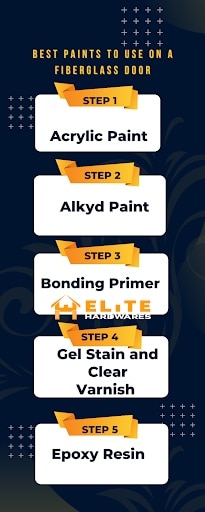 Bottom Line
Conventional oil paint degrades the condition of the door and does additional harm to it. Due to this reason, it is necessary to know what kind of paint to use on a fiberglass door. Hope that following this article, you will be able to paint your fiberglass door perfectly.