What Size Cabinet Pulls For 42 inch Cabinets?
Many get confused when it comes to the size of cabinet pulls for bigger cabinets like a 42-inch cabinet. It can feel like a daunting process. But there is no rule on how big or small the cabinet pull should be. 
It all comes down to personal preference and striking a balance between style and functionality. That being said, traditionally- 3 inches, 3 ¾ inches, 5 inches, 6 ¼ inches, and 10 inches cabinet pulls go well with 42-inch cabinets.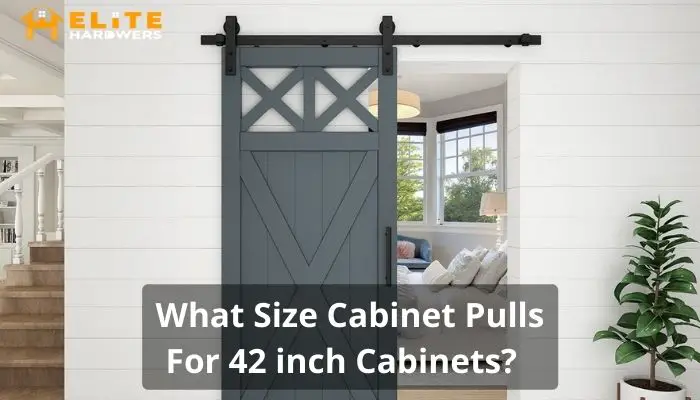 One does not necessarily need to follow the tradition. Instead, follow a relative scale approach to make a decision. In this article, we will elaborate on how to use a relative scale approach and what size cabinet pulls for 42 inch cabinets is preferable.
What Size Cabinet Pulls For 42 inch Cabinets?
Cabinet drawers and doors tend to look best when they pull size is one-third of the door or drawer. And that is the relative scale approach. You can use this approach to decide what size of pulls you can use for your cabinet.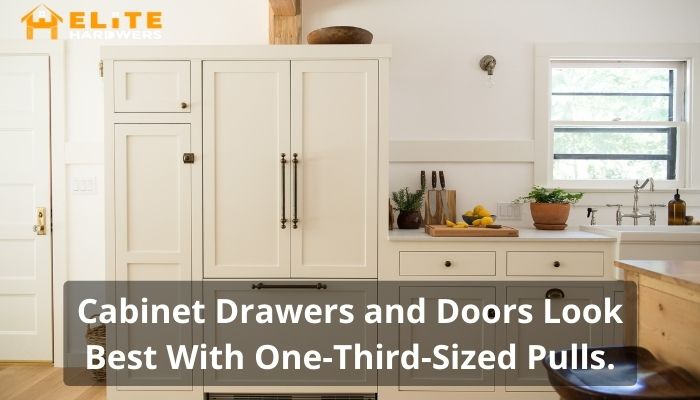 Try not to go over one-third of the size because it may look odd.
Here are a few things you should keep in mind when choosing the right size cabinet pulls:
Center to center: To measure a pull, you should measure the distance between the center of one screw hole to the center of other screw holes.
Projection: How far the pull sticks out from the surface of the cabinet after you are done with installation.
Diameter: The width or thickness of your pull or the thickest portion of your pull.
Overall length: Overall length is when you measure end to end, meaning one end to another end of the pull. 
The size of the pulls also depends on your kitchen design. If your kitchen's ceiling is low, go for a long-size cabinet pull like 256mm or 10 inches. It would be appropriate for your long cabinet and add height to your room from a visual perspective.
If you think a 42-inch tall cabinet would look better with shorter pulls, then go for it; no one will stop. 
Usually, people go for 3 inches, 96mm or 3 ¾ inches, 128mm or 5 inches, 160mm or 6 ¼ inches, and sometimes 256mm or 10 inches cabinet pull for 42-inch cabinets.
Remember, when you go for a longer cabinet pull, it will be measured in metric.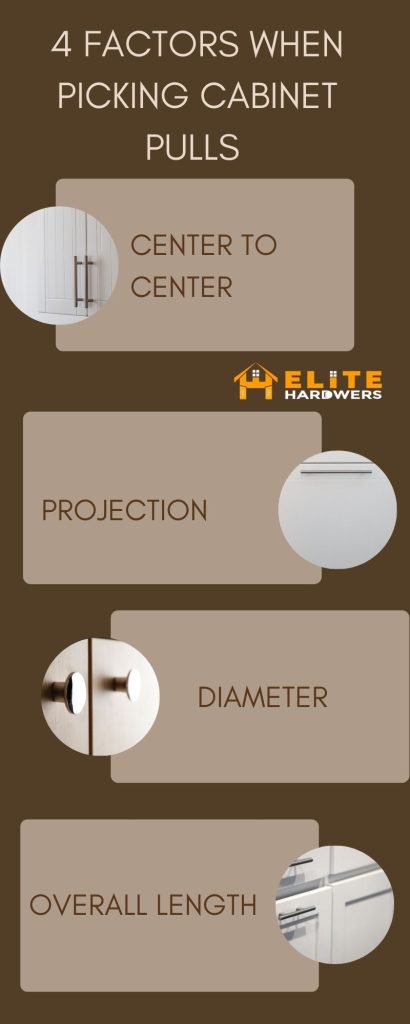 It is recommended to use two pulls on a regular cabinet drawer, but for a wide drawer like a 42-inch one, you can use a single long cabinet pull. It will give you a contemporary and cleaner look. This one pull-on drawer is also easier to operate.
Shaker Cabinet
If you are wondering what size pulls for shaker cabinets, just go for 128 mm or 160 mm, or 256mm pulls. A single long pull like the hickory pull would enhance the elegance of your shaker cabinet.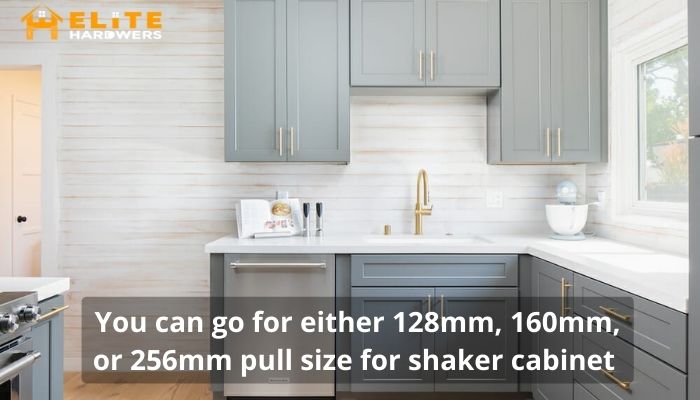 An elaborated designed pull may give a messy look to your shaker cabinets. Remember, simplicity is the key. So if you go with simple bar pulls, you can even throw in some knobs in there, too, and it would go so well with the straight line of your shaker cabinet.
When you try to match the design of your cabinet and pulls, keep in mind the size, thickness, and material of the pulls you want to use.
Now, the second question that might be bothering you is, knobs or pulls on shaker cabinets? Don't even give it a bit of your worry. You can use pulls and knobs interchangeably on shaker cabinets. And that's the traditional way.
Again, you don't need to follow tradition necessarily. You can go for only pulls or even only knobs, which is quite rare to see. Sometimes people go for only knobs, but it may look a bit boring. That is why we mostly see a mix of pulls and knobs on cabinet drawers.
It is usual to have the third question by now: where to put handles on shaker cabinets. Pull handles may come in many styles, but they all have similar functionality. Many prefer to use knobs and pull handles both on cabinets.
Regardless of which one you use, the handles on the shaker or 5-piece cabinet should be placed on the frame's corner. Make sure to center it in the frame's corner. The handle should be around the center of both horizontal and vertical frame pieces. 
Or you can place them in the center of the cabinet vertically. It is more modern and goes well with taller cabinets.  You can use the cabinet pull installation guide to help you out
Conclusion
With so many shapes and sizes of pulls to choose from, it is easy to get overwhelmed. But if you stick with the basics, as we mentioned in this article, you won't have any problem figuring out what size cabinets pulls for 42 inch cabinets.
Instead of center-to-center measurement, try to maintain the distance from one end of the pull to another end of the pull. It is easier this way, and a long pull of 7-12 inches would never go wrong with a 42-inch cabinet. Feel free to experiment with shorter lengths of pulls to see how it goes.