How to Board Up Sliding Glass Doors With Plywood? 3 Easy Steps
Want to board up your sliding glass doors with plywood? Guess one of your glass doors is broken, making you rush for boarding up. But you don't know how to board up sliding glass doors with plywood.
For boarding up, you have to follow only a few steps which you'll find very easy. First, measure the required size and cut sheets then drill holes and bolts and at last place them.
In the following section, we'll discuss the necessary steps for sliding glass door boarding in detail.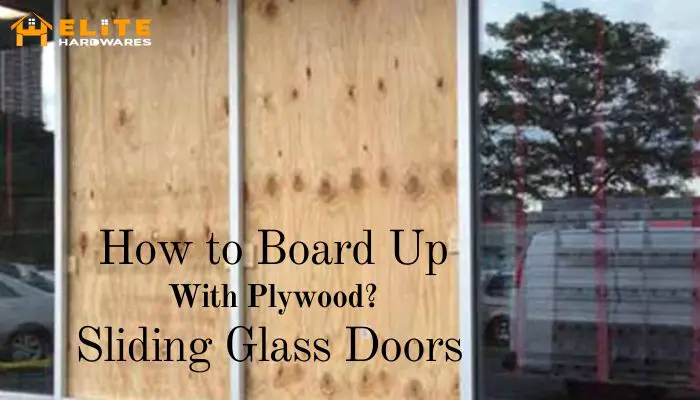 How to Board Up Sliding Glass Doors With Plywood? The Procedure
How to board up sliding glass door with plywood or how do you board a window with plywood? You can ask in both ways but the answer to both questions is the same. 
Why Do You Need It?
The common reasons for boarding up are:
Natural Disasters or fires or broken tree branches cause serious damage. 
Safety issues are also countable in this case.
Residence located in a place that's suffering from vandalism, burglary, or else.
Your residence area is pre-approved for boarding up.
Besides these, you may have some other reasons for boarding; that's totally fine until it's legal.  
If you want to seal your sliding glass door from bugs, you may check out our guide on how to seal sliding glass doors from bugs.
Additional read: You also may check "how to clean mold from sliding glass doors?"
What Do You Need for It?
Before going straight into the procedure, you may need some equipment, they're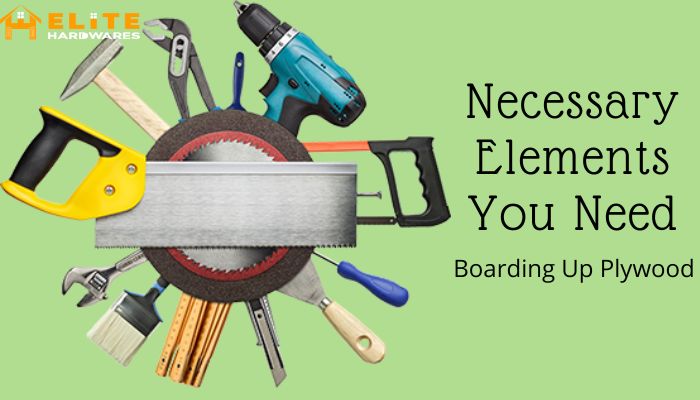 Measurement tape.
A saw.
Hammer with some nails.
A wrench and some nuts with washers.
Some wood/masonry anchors.
Different types of bolts.
Plywood sheet.
Besides the listed elements you may need some more depending on the situation. Along with these elements, an extra pair of hands can be quite helpful and of course the safety elements. You can't ignore safety, no matter how much careful you are. 
The Installation Procedure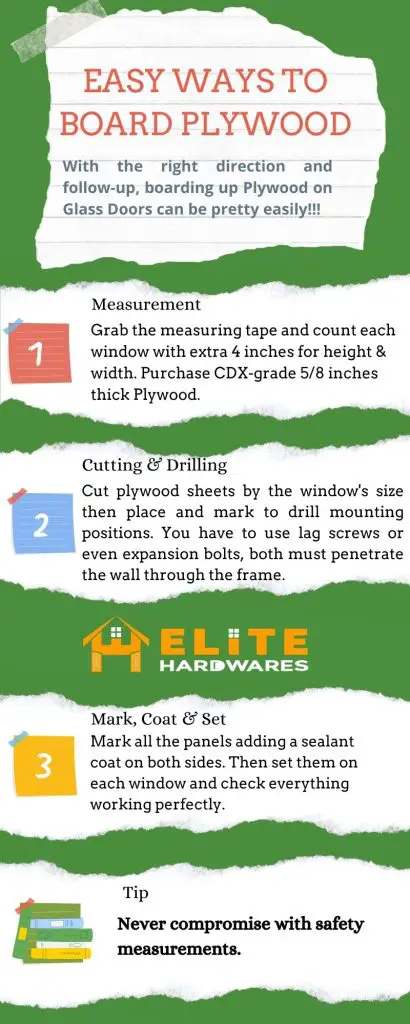 After gathering all the elements, let's start with the safety gears. Kindly check if your residence is allowed for boarding.
Measurement
First, grab your measuring tape and count each window and sliding door. If your home has a problem with the roof, vent, or even any opening that can turn into an air entrance; count for them too. For doors add 8 inches and for windows add 4 inches in heights and widths both in measurement.
Speaking of measurement, we have an article on cabinet handle measurement you may like.
Normally plywood sheets come at 4 by 8 feet in total and following this info you can easily calculate how many sheets are needed, then cut accordingly. Remember, you mustn't buy plywood sheets that are less than ⅝ inches thick + not CDX grade. 
Cutting & Drilling
Now cut your plywood sheets according to the window or door size with some extra space (Discussed above). If your door or window is larger than the sheet, join the panels with 2X4 braces from the outside. 
Afterward, you have to drill through the entire seam at 12 inches intervals and 2 inches from the edge. Then, place the sheet over and mark drill the mounting positions. For windows installed on wooden frames, you have to use lag screws ¼ inches to ⅜ inches with plastic coated anchors. 
If your window is installed on a masonry house, then use ¼ inch expansion bolt with galvanized expansion anchor. Both lag screw and expansion bolt must penetrate through the wall with the frame.
Mark, Coat & Set
In this phase, mark your panels so that you can use them sharp whenever needed. Make sure to have a coat of sealant of color on both sides of those panels.  And finally set every panel on each door or window and door to check everything is perfect. If not, then check which step from above has been missed or gone wrong.
If you like to try some other methods and are also short on helping hands, then you may like this tutorial 
Product Recommendation 
For your convenience, we would like to share some products such as a Circular Saw with laser or a Rubber Sealant applicable for multi-surface. 
Frequently Asked Questions
Do sliding doors need frames?
You can use frames on doors only when your walls are plumb + straight. Again if your surface is a bit harder like wood flooring or tiles, then you have to add a frame for the door. 
Final Words
Boarding up sliding glass doors or even your windows is quite a simple process if you do it accordingly. We hope you have learned how to board up sliding glass doors with plywood. 
This includes some tools that remain in most garages or basements. Now you can confidently board up or even change the sliding door's broken glasses (if any) as the process is quite similar.