How to Seal Sliding Glass Door From Bugs? 5 Easy Debugging Tips
Bought a new home? Nice one but it has some bug issues that you don't like again don't want to compromise your glass sliding door. Want to fix the problem on your own but don't know how to seal sliding glass door from bugs?
No one likes bugs, and the same goes for us too. But it's quite impossible to eradicate insects. Rather we can follow some methods to control them for our convenience. A few simple steps can give you the desired relief.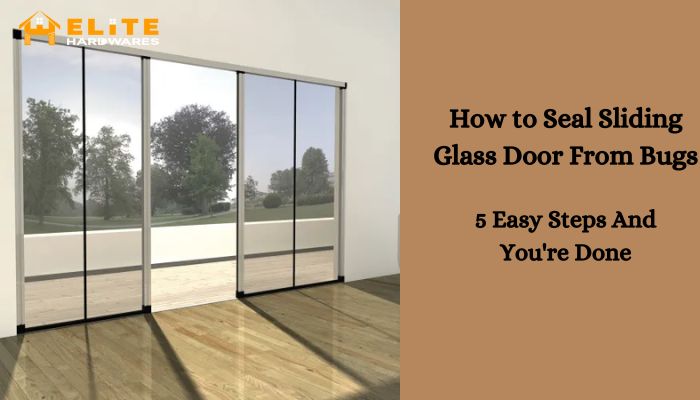 First, seal every gap you find surrounding your sliding door and spray acrylic latex caulk into the cracks or spaces around. Then search all unnoticed areas and fill them with latex caulk. Afterward press the caulks in with wet fingers and a knife where needed. If you have any tearing, then patch the slider screen immediately.
Removing or preventing bugs from entering the home is not difficult but can make you impatient. In this article, we've gathered the simplest way to seal sliding glass doors from bugs shortly.
How to Seal Sliding Glass Door From Bugs? Sealing Procedure
The debugging process for your sliding door is quite simple with a few simple steps. But, before that, you need to gather some elements. They're :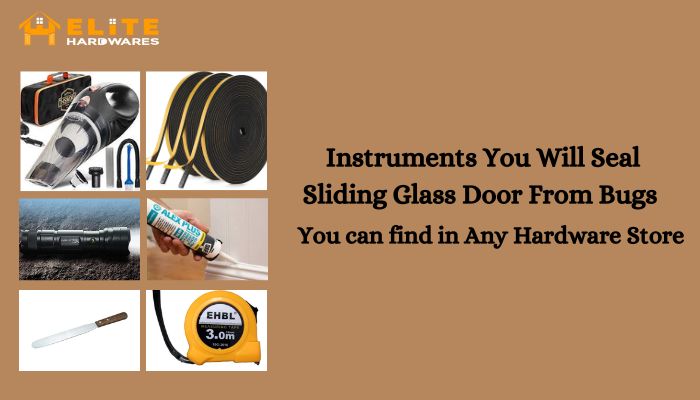 A vacuum cleaner.
Weatherstripping foam.
A torch.
Acrylic latex caulk.
A knife. 
A measurement tape   
Wondering why we need a vacuum cleaner? With this, we can remove all the dust, dead bugs, and other unnecessary stuff from the gaps around the door. It'll help to collapse the gaps more effectively. Again with the tape, we can measure different sizes; for now, the torn portion of the slider screen.
The Sealing Procedure 
If you are still wondering if bugs can get in through a sliding glass door, what is the best way to seal a sliding glass door? In the following section, we'll describe all the steps with details that include your answers too.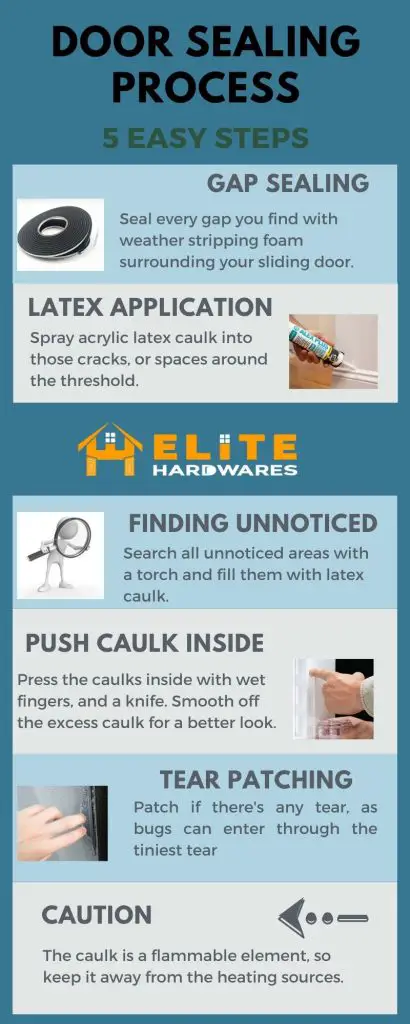 After clearing every gap and crack findings with a vacuum cleaner, we'll use ½ – ¼ inch thick weather stripping foam. This will prevent the insects from entering. Afterward, apply about a bead of clear acrylic latex caulk into the cracks and gaps around the threshold.
While working with thresholds, you may need to adjust the rollers of the sliding glass door so follow the steps carefully. Again the acrylic caulk blends in perfectly with the building materials and even can be cleaned up easily.
Next, grab your torch, look for gaps in the unnoticed areas, and clean again with the vacuum cleaner. If you find any cracks and crevices, once again fill them with caulk. Then push all the applied caulks inside with a wet finger and a knife when needed. Besides you can remove the overpoured caulks, it'll look better.  
At last, repair the torn parts as bugs can use the tiniest tear for entrance. For patching, you can use the sewing technique or attach a new part over the torn portion and tie them up. 
Speaking of glass sliding doors, we have a nice tutorial on how to board up sliding glass doors, we hope you'll find that useful.
Frequently Asked Questions
Why Do Bugs Enter Into House?
There're few theories on this topic. But among them, the common one is that bugs enter a house only when they find food, shelter, and safety just like humans. 
How Do I Seal the Gap Between Sliding Glass Windows?
Adhesive weather strips are a pretty effective and quick solution for filling gaps between sliding glass windows. In general, water comes inside using these gaps, so you must cover it ASAP.
Are Pine Sols Effective to Drive Away Bugs?
In some cases, Pine Sols are found effective against bugs. Just dilute it with water at an 8:2 ratio, mix well by shaking and then spray on every spot you like to keep away from bugs. 
Final Words
As we said earlier, bug removal or preventing entering homes is not a difficult task but tiring work that can make you impatient. Following that, we have tried to learn some easy steps on how to seal sliding glass door from bugs in previous sections. 
The steps we explained in the article are simple, including necessary items. Along with the steps you've to be more careful about every step in your house. And most of all, never compromise with safety measurements.