How to Install Bottom Mount Drawer Slides? 4 Easy Steps
Trying to upgrade your wardrobe with a drawer or install new cabinetry all by yourself? But don't know how to install bottom mount drawer slides? Relax, I'll share some easy steps that you'll feel confident to guide others.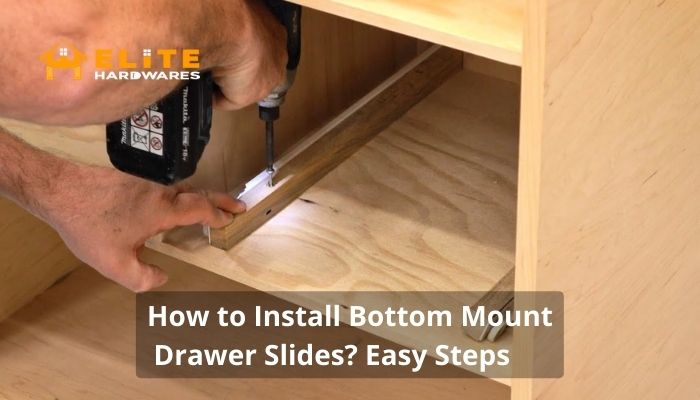 In short, you need to follow a few steps like alignment, measuring, Cabinet modification, and at last the finishing part with adhesive or nail-in.
In this era of advanced technologies, you'll find various alternatives serving a single purpose. In this case, the extension type, mounting, slide's length, preference, etc are all related to installing drawer slides.
Assume that, you've gone through various types of solutions, and finally, the bottom mount drawer slides. With this option, there come some steps to follow, which I've included in this article.
Types of Drawer Slides
If you have made it up this far, then you may know the different types of drawer slides. They are:
Roller Slides
Center Mount Drawer Slides
Undermount Drawer Slides
Bottom Mount Drawer Slides
Soft Close Ball Bearing Drawer Slide
Depending on the clients' demand, the category of the slide type is defined for use. For that, I'd like to say, don't go with the flow; instead, your need and choose the suitable category. There's a fine tutorial about choosing the right slide in the following video, which you'll find helpful.
Difference Between Undermount and Bottom Mount Drawer Slides
The undermount drawer slides are installed under the drawer boxes, which allow the drawer to carry more weight and at the same time more comfortable movement. 
Again, mount drawer slides are located at the bottom of the drawer. This model creates some friction in movement while loaded with more weights.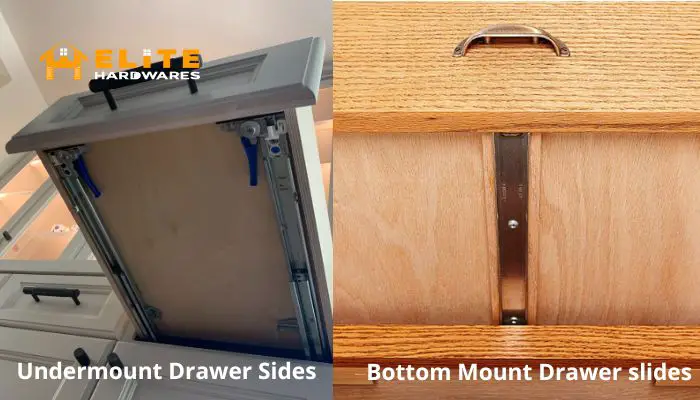 We have an article on how to install ball bearing drawer slides, in case you feel curious about it.
How To Install Bottom Mount Drawer Slides?
Before going straight to the points, I would like to share some basic info about the bottom mount drawer slide, in case you don't know yet.
The Bottom Mount Drawer Slide
This technique allows you to get the highest amount of space among all other techniques. 5-20 dollars/ pair is the maximum amount you may spend, making it cheaper than others. At the same time, this technique deducts the weight as a whole.
What Do You Need?
To install a bottom mount drawer slide, you'll need first a pair of slides and related accessories. Besides these, you'll need
Safety glass and a pair of safety gloves.
Screwdriver or electric drill.
A saw.
A chisel
Some nails with a hammer.
A level.
 A combination square.
And a measuring tape with a pencil.
You may think the safety glass and gloves are unimportant and decide to skip them. As a professional, I recommend not skipping any safety measurements.
The Installation Process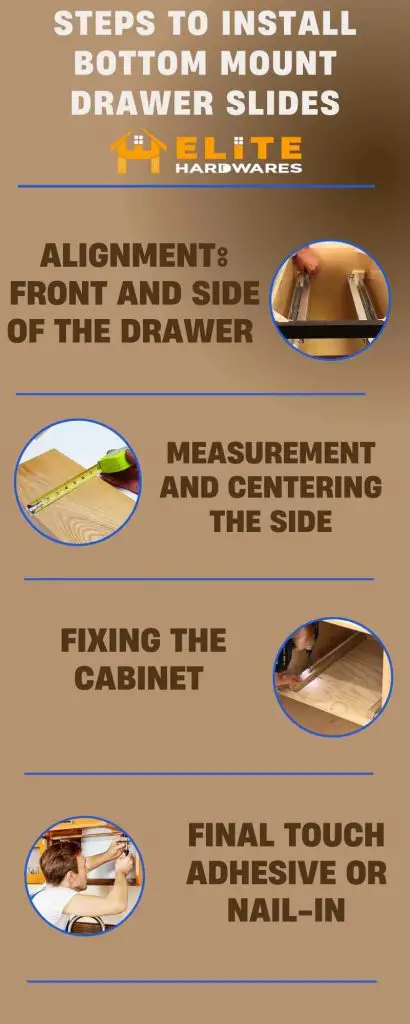 Let's divide the whole installation process into some steps. And these are:
Alignment
Here, you must align the front and the side of the drawer as they're the most crucial part. You have to add a notch in case there's an overlay. For notch in both sides cut at 1/8th  inch of width. You must do it with the bottom depth. 
Now remove all the waste with a chisel and install the slides. After setting the drawer at the center screw the rest. Here, you can leave one or two screws open to the slide.
In case you want to know more in detail about spacing we have a beginner's guide.
Measurement
Now grab the measurement tape and confirm the slide is in the center. If everything is okay then attach the slide part to the front of the face frame. Then connect a 3/4th inch thick mounting block inside. Here is a good deal for bottom mount drawer slides you may like.
The Cabinet Section
The above frame must remain clear; if not, you can use an angle. Again use a mounting bracket in the back of the cabinet as extra support for the slide. With the face frame, the space must have a square shape, if not I'm afraid you have to start it again.  
Final Touch
If you find the cabinet with a dusty frame you can mount it on the side. For supporting the drawer you can use nail-in or adhesive in the glid pad. Remember, the spot must be on the bottom edge of the drawer's passing area.
Final Words
So far I did try to share some easy steps on how to install bottom mount drawer slides. This type of slide is mainly for face frame cabinets. Prior knowledge about installation will simplify their modification. No matter what you know or not, never compromise with the safety measurements.