Where to buy cabinet skins?
It is true that cabinet skins are very hard to find. The reason is that people usually prefer hardwood as an alternative to cabinet skins because of its durability. But cabinet skins also give the space a stylish look.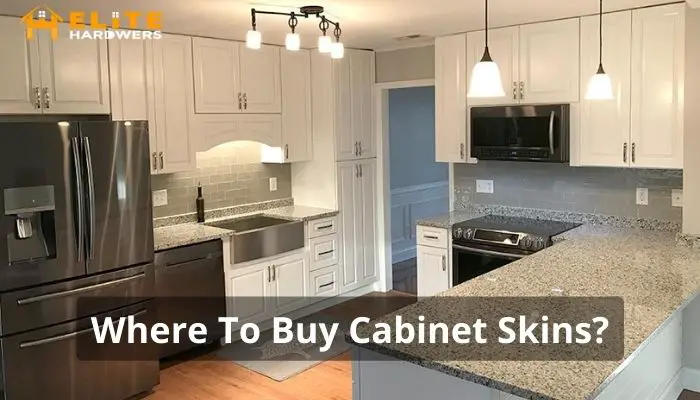 So here we will give you some ideas regarding where to buy cabinet skins. The locations we've discussed offer a wide selection of goods at the best prices.
In the main section of this article, we discussed 5 great palaces where you can find the skin. 
Next, we demonstrated a 3-step strategy for how to attach a skin to a cabinet. And lastly, we talked about exactly what to consider before purchasing a cabinet skin. 
Where To Buy Cabinet Skins?
Cabinet end skins are mainly used for decorative purposes. Here are a few reliable stores where you can purchase the kitchen cabinet skin of your choice. There will be a range of products available with different functionalities and price points.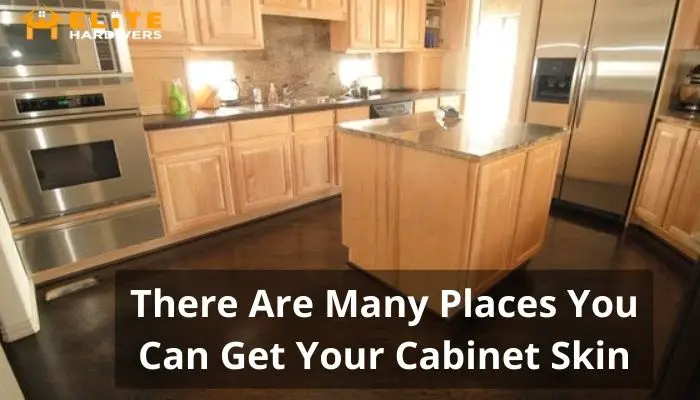 Lowe's
Lowe's collection of cabinet skin sheets is quite good. They have white cabinet veneer sheets, which are very common and in demand. Other than that, you could also find an English oak laminate sheet, a red oak cabinet veneer sheet, and a hard maple cabinet veneer sheet.
Among all of these, English oak laminate sheets will be a little expensive, costing between $75.35 and $179.76. However, you will get a choice option here. You will get the option to pick your color tone. But this option won't be available for the other cabinet skins. But you will get a good price for them. 
Floor and Decor
Another well-known name among American home improvement retailers is Floor and Decor. They have more than 120 locations all over America, so availability won't be an issue.
They have a massive collection of kitchen cabinet skins, especially peel and stick veneer sheets for cabinets. Additionally, they supply a variety of designs for peel-and-stick sheets. 
For example, white marble hexagon peel and stick sheets, cosmo glass linear peel and stick sheets, and mother of pearl marble peel and stick sheets.
Besides veneer sheets, they also have a good collection of hardwood and laminate wood for the end pile.
Walmart
Again, this isn't your usual home improvement shop, but they have all the kitchen cabinet skins that you need. With over 5000 locations, Walmart is one of the most well-known American retailers.
Once again, Walmart's affordability and availability make it possible for you to close the deal. Well, they also have a good range of cabinet skins with good variation. They have peel and stick wood veneer sheets, and peel and stick silver stainless steel contact paper.
Besides the peel and stick sheets, they also have walnut, red oak, and mahogany wood veneer sheets, and they come in multiple cabinet veneer colors.
GL VENEER
If you are looking for a wood-based veneer sheet kitchen cabinet, GLVENER would be the solution. California-based GLVENNER produces multiple types of wood veneer sheets at a very affordable price.
GL VENEER has a total of 100 species of wood, including walnut, pine, oak, maple, and jarrah. The sheets have a total of 5-grain types, which are burl, figured, plank, reconstituted, and rustic.
Home Depot
Another very common name for kitchen appliances is Home Depot. This retailer offers the most variety in every category of kitchen appliances. This is also a great destination for buying cabinet veneers and laminates sheets.
Aside from wood veneer, they have a good selection of laminated veneer sheets as well. They have Formica, natural recon, and Wilsonart laminate sheets in their collection. 
How Do You Attach Skins to Cabinets?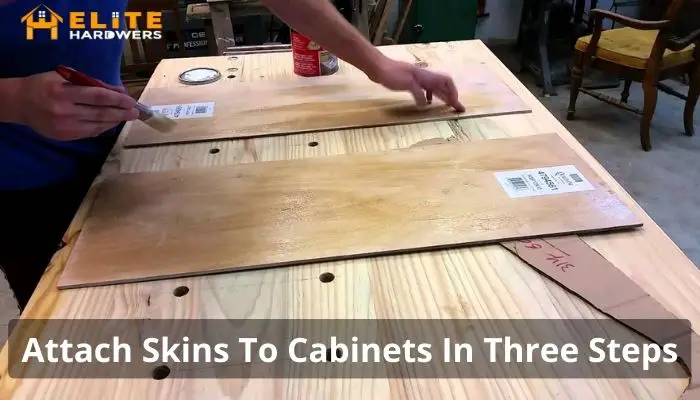 From start to finish, there are only three steps involved. Here's what you need to do.
Step 1: Dimension Settings
Sometimes the sheets won't come in the appropriate size. In that case, you must cut it by following the cabinetry palace. For example, you've got to measure cabinet door hinge placement.
Step 2: Adding Adhesive
Add adhesive to both the cabinet surface and the sheets.
Step 3: Apply Veneer and Put Pressure
Attach the sheets to the right side and press so that they adhere properly.
What Should You Consider When Buying Cabinet Skin?
There are a few things you can check out while buying cabinet skins. Here are the points: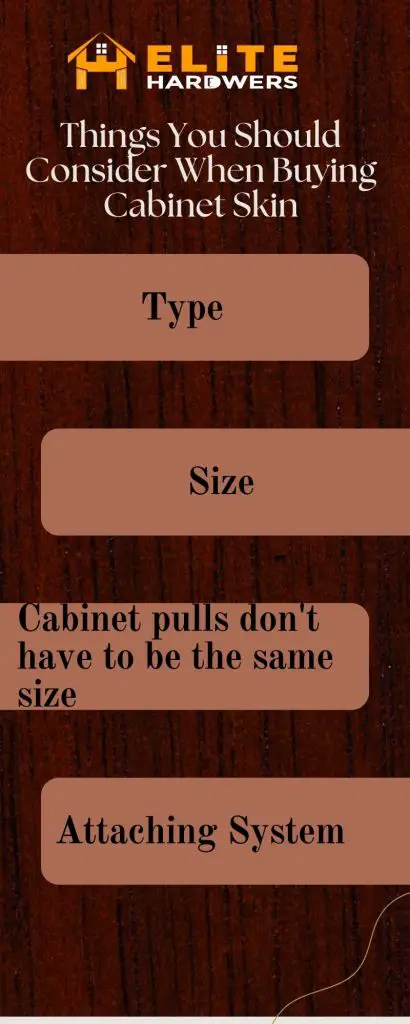 Type: Check whether it's wood or laminate skin. Usually, wood sheets are more expensive than laminates.
Size: Try to choose the perfect size sheets that go well with your cabinet area. If the sheets come bigger than normal, you'll have to cut them by yourself. If the cabinet doors are all the same size, it'll be an advantage for you.
Should cabinet pulls all be the same size? Not necessarily, but in that case, you've to cut the sheets accordingly.
Attaching System: Some sheets are of the peel and stick type, which don't need any external adhesive. In contrast, some are regular types that need adhesive to attach.
Here Are Two Recommended Cabinet Skins
VEELIKE 15.74″x118.11″ Contact Paper This conduct paper is particularly great because of its waterproof and rust-resistant capabilities. It also gives protection from corrosion and damps as well.
Art3d 17.7″x78.7″ Marble Contact Paper This one looks stunning in the cabinet. It's a peel-and-stick contact paper, so it's totally self-adhesive.
Final Words
Now it should be clear to you exactly where to buy cabinet skins. Cabinet skins are not a very common kitchen item, so they're pretty hard to find. In this write-up, we showed everything.
We started by answering the question, "What are cabinet end skins?". Then we shared some places for the cabinet skin. Besides the place, we also shared what types of skin you are going to get in there. 
Since a particular store sells only a limited range of products. Here we tried to share those places, which are very common and the price will be affordable.
We're pretty sure that the majority of the stores will likely be found close to where you are.