What Color Hardware For White Kitchen Cabinets?
White is a traditional color for kitchens and bathrooms. White gives off a classy, clean vibe to a kitchen, and it is refreshing to look at. It may all get ruined if the wrong color hardware is installed. The hardware color plays a vital role; it can either make or break the vibe of your kitchen.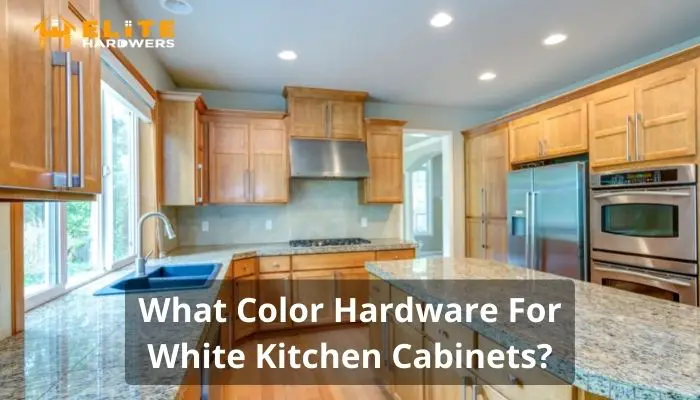 It is natural to get confused about what color hardware for white kitchen cabinets. Nobody wants to ruin a beautiful white kitchen by installing the wrong color hardware. 
Please stay with us to find out what colors in what circumstance goes well with white kitchen cabinets.
What Color Hardware For White Kitchen Cabinets?
It may be easier to find a hardware color for a nonwhite kitchen cabinet. But when you have a white kitchen cabinet, you have to make sure the hardware color matches the tone and elevates the cabinetry's natural beauty.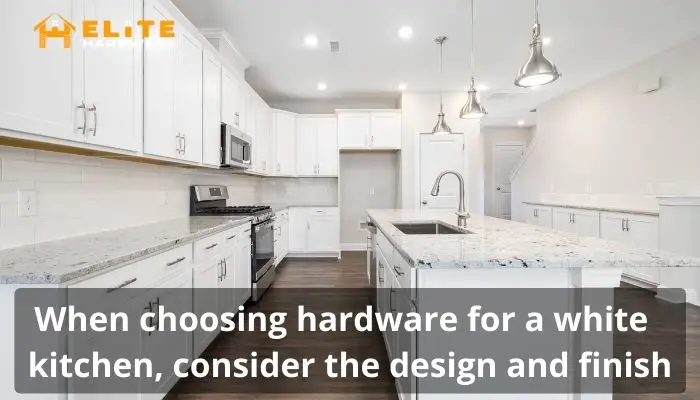 When considering the hardware color for your white kitchen, you have to keep in mind the style and the finish of your kitchen. Another important factor you should remember is the accessories and other home decors. 
Here is a list of colors of hardware that go well with white cabinets.
Black
Brass
Bronze
Copper
Pewter
Silver
White 
What Hardware For White Kitchen Cabinets
In this segment, we will elaborate on what color and type of hardware for the white cabinet.
Black Matte or flat finish
Black hardware or matte black finish hardware would naturally provide a sharp contrast in a white kitchen.
If you have a grey color backsplash and black accents above the stove section, go with matte black because it would suit your white kitchen the best and give it a sophisticated look.
Installing black or black matte finish handles, hinges, knobs, or pulls will add a modern look to your white kitchen.
You have to consider your other home decor and appliances too. Doesn't matter if your decor and appliance are white stainless steel or black stainless steel, or any other color; black color hardware would go well with it. This is probably a plus point of having black hardware because you don't have to worry about the color of other appliances to match it.
Brass
Brass hardware for white kitchens has become quite trendy in recent years. Hardware with polished and bright gold or brass tone adds an elegant and sharp look to white cabinets.
This brass or gold-tone is highly recommended if you are going for contemporary, traditional, or farmhouse appeal for your kitchen. You can never go wrong with brass hardware in these styles.
If your kitchen countertop or wood furniture has a light brown or golden color, then brass hardware would enhance the classy vibe of your kitchen.
Bronze
Bronze hardware goes well with white kitchen cabinets.
But it really pops if you have an industrial, antique, or vintage touch to your kitchen. If you have any of these three styles, then go for bronze kitchen hardware without giving it a second thought.
Bronze is a bit more muted than brass, yet it offers plenty of contrast. Bronze looks more stunning if your kitchen has industrial-style hanging lights and cooper or industrial kitchen sinks.
If you have worm color in your kitchen like dark brown wooden decor or accessories, then bronze would make it feel more durable, distinguish white kitchen.
Copper
Copper or brown patina is classic color hardware and perfect for the cottage, rustic, or vintage-style white kitchens.
Instead of the bright and glossy white cabinet, if your cabinet has a softer shade of white, then you can never go wrong with the patina of copper.
Copper works best if you have antique-style wooden furniture, old-fashioned countertop, and decor.
Pewter
Pewter kitchen hardware is a lighter and softer metal and goes well with a white kitchen cabinet. The pewter color is like a mix of silver, gold, copper, and tin altogether.
Pewter is a soft color that blends in with your white kitchen and different colors of accessories and decor. But it goes best with black, silver, and black elements.
Just like bronze and copper, pewter color hardware would give your kitchen an antique look.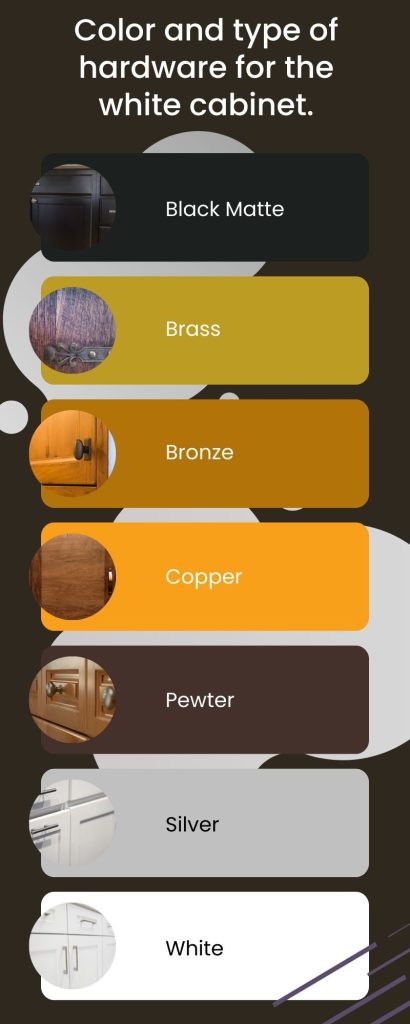 Silver
Silver is probably one of the most common colors when it comes to kitchen hardware. If your white kitchen has a silvery-gray or light blue background, then silver color hardware would suit the most.
If you have bright and glossy white cabinets, then silver would make it pop out more.
White
Last but not least is white color hardware. If you don't want your knobs, pulls, and handles to stand but, instead, you want them to blend in, then white color hardware would be a perfect choice for your white kitchen cabinet.
It would not contrast in any way. 
An antique or vintage style kitchen would appreciate white ceramic, porcelain, or painted glass knobs, pulls, and handles very much.
Hardware Placement
Wondering where to put knobs and handles on cabinets? There is no fixed rule, but you can follow the traditional way to place them. For knobs, you can place them on the stile opposite the hinges. Keep 2 ½ -3 inches from the corner of the door. And for the lower cabinet, simply put them in the upper corner. You can use a phillips screwdriver to do the placement.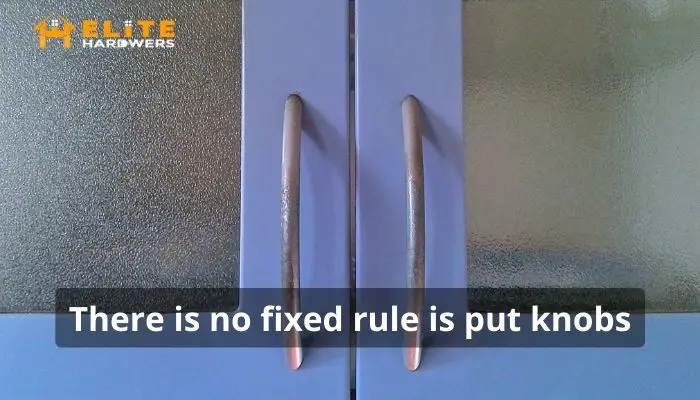 For handles, use the same 2 ½ -3 inches rule to place them on the bottom corner of the door. And for the base cabinet, 2 ½ -3 inches from the upper corner of the door.
You can install cabinet knobs without drilling. For that, you need a knob that has a large base to connect with the cabinet. If it has a long metal screw-like thingy that you usually drill, simply unscrew and remove them. Or you can choose to cut them off using a saw.
Cut a command strip according to the base of your knob and place it on the cabinet where you want to install the knob. Peel off the cover from the command strip and press the base of your knob there. It should stick nice and firm.
Conclusion
We hope now you know what color hardware for white kitchen cabinets is preferable. Any black, brass, bronze, copper, pewter, silver, and white color hardware would go well with white cabinets.
If you feel hesitant about how much your knobs, pulls, and handles would stand out, then go for white kitchen hardware. They are known for blending in and not standing out at all. You won't even notice the design and size of your white color hardware.