How to Clean Mold From Sliding Glass Door? Easy Removal with 2 Pro Tips
Mold or mildew whatever you name, nobody wants to see further. When it is on your sliding glass door, you can't avoid it more. But, do you know how to clean mold from sliding glass door? 
Molds or mildews are kind of fungi and unhealthy too.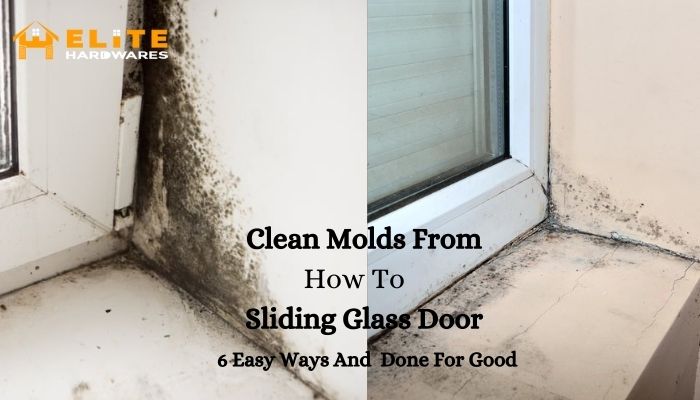 You can remove them with some home remedies like baking soda, hydrogen peroxide, chlorine bleach, vinegar, and cleaners. Aside from this, you also could use some branded cleaners as well. 
In the following section, we'll learn all the ways to remove them from your sliding glass door.
How to Clean Mold From Sliding Glass Door? Using Remady and Cleaner
There's a proverb that says. Prevention is better than cure. If you can know, where, when, and how molds and mildew grow you can easily control them or even eradicate them from your residence. 
That's why we'll pay attention on the reasons first. Along with cleaning molds, we can also block heat from sliding glass doors which can bring you some extra comfort. 
The Reasons Behind
Glasses are artificial materials and for that reason, molds can't formulate on such a thing. However, they have an alias here, air-driven dust. Dust spreads by air and carries various organic matters along; molds are very prone to these.
Again, glass windows are normally set on organic material like Aluminium, creating the perfect reproduction environment for them. Besides, dirt and dust will recreate an ideal reproduction factory if your glass is moist or the humidity level gets higher.
The Cleaning Process
Though molds or mildews can grow on various surfaces like sliding glass, wooden/vinyl frames, and even tracks. We can clean them in 2 methods; they're home-ready and cleaner. We'll describe them shortly.
Home Remedy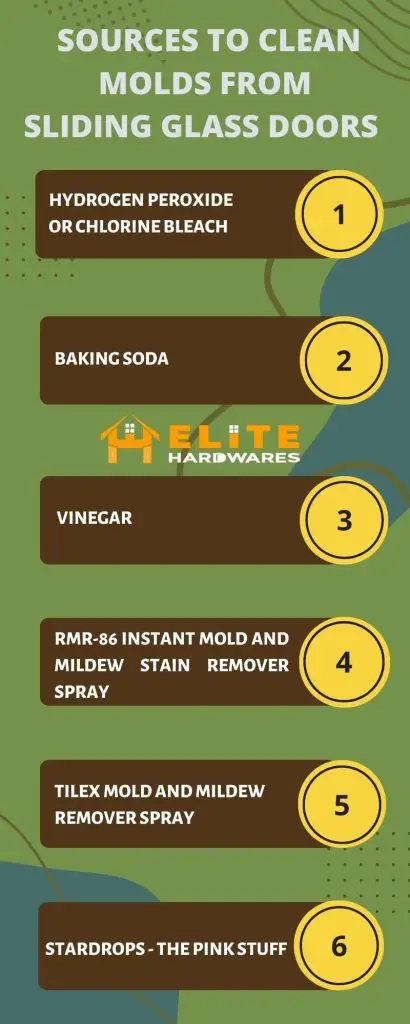 Removing molds is a bit tricky and it's a common issue in almost every house. But you can fight and remove them eventually. For that you can use:
Hydrogen Peroxide: It's an effective anti-fungal solution. Chlorine Bleech also contains the same material strongly oxidized. Using it, you can easily remove fungus and black molds while simultaneously sterilizing the surface.  
Baking Soda: It's a white crystalline powder that can be easily found in markets and kitchens both. A simple solution with water can not only remove the molds but also perish the fungus's breeding-friendly environment. 
Vinegar: Don't mix it with the rice vinegar or apple cider vinegar, just white vinegar.  A simple sprinkle and wiping out can effectively abolish about 82% of fungicides living on glass.
Mostly all three solutions work. But you may find some people suggesting you use a vacuum cleaner. You can do that, but don't expect the problem has gone for good.
Branded Cleaners
Home remedies do a wonderful job that we hardly know.  But sometimes we need some extra solutions. In this case, when all our home remedies somehow didn't work, we can't but apply extra agent line cleaners. For your convenience we have picked a few cleaner agents from Amazon; you may find them helpful.
RMR-86 Instant Mold and Mildew Stain Remover Spray: All-purpose cleaning agent you can expect within budget. In fact, RMR-86 provides you a guarantee to complete removal and a maximum chance of no further growth of molds or mildews. Just apply and then forget about it.
Tilex Mold and Mildew Remover Spray: It's one of the most popular cleaning agents for bathrooms but works on molds too. You can effectively remove their growth from the root with zero effect on the surface(glass, frame). 
Stardrops – The Pink Stuff: This solution is considered to be multiple cleaning agents. You can remove almost any stain, fungi like molds, mildews and rust stain, etc without leaving any trace or scratches behind. Rather you'll get a shiny surface.
If your problem still exists and returns consecutively, then we suggest you contact a specialist. They may find and solve facts that you've missed. Don't panic; it's a rare case.
In case you forgot how to install bifold doors without bottom track, we have a good tutorial to help you out.
Frequently Asked Questions
How to remove black molds from glass?
For that, first, add ¼-½ of a cup of bleach to one gallon of water. Then grab a towel soak it with the solution and rub it on. Wait for 15 minutes and all the infected area is now disinfected.
Last Words
Whether it's mold or mildew both are fungicides and harmful too, especially for those who have dust allergies or asthma problems. So far we tried to discuss how to clean mold from sliding glass doors with their growth and cleaning procedure. 
If you can use any one or two solutions properly then, you don't need to worry about them. But before that, kindly use safety gear first as they can cause harm.