Easy Hacks on How to Remove a Door Knob That Is Stuck | [Tested]
Nowadays almost all wooden doors have a knob for closure, opening, and occasionally for lock system. But sometimes these knobs get stuck or jammed. And most of the time people don't know how to remove a door knob that is stuck by themselves, do you?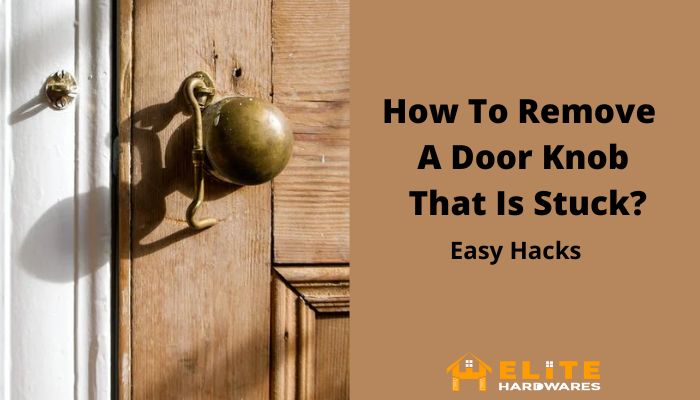 This is a common issue now for both users and locksmiths. When you're outside with some knob or lever issues, you have no choice but to remove the knob. 
First, confirm the knob type as some models have visible screws and some have slots. If you've screws then loosen them with a screwdriver. And for the slotted one insert a slotted screwdriver in the slot and pull the knob both at the same time.
In the following section, we'll discuss removing a door knob in detail.
How Do You Open a Door Knob That Won't Turn?
As I mentioned earlier, there are two types of knobs available in the market. One has visible screws and the other one is a slotted knob. The removing process for both types has a fundamental difference that we'll discuss shortly.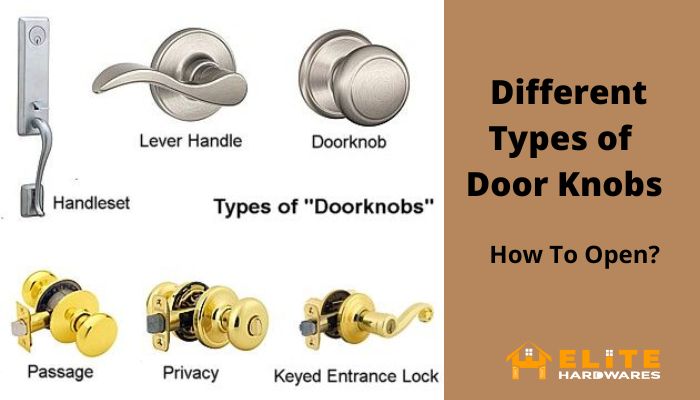 Knob with Visible  Screws
For visible screw types of knob generally, you need to find a part named faceplate. You'll find it snapped in. Just pull that out and there're screws. Next, grab your screwdriver and remove each screw gradually. If you have an interior knob then just repeat the same procedure for that.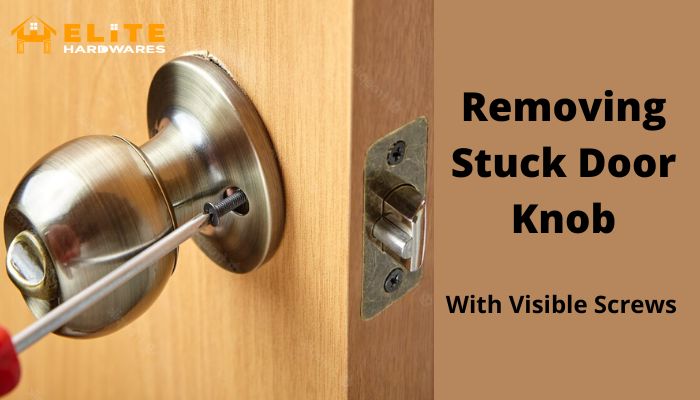 Slotted Knobs
Knobs with visible screws are fading over time. The moderate versions come as a slotted one. Before following the procedure, please confirm that your knob has no "snap-in faceplate", if the answer is no, only then follow this procedure.
First, find a sharp object like a knife, flat-head screwdriver, etc. After that look for an angle to put in the sharp object and twist it quickly with force. Try to pry that out and this will expose a lever. Just push the lever down to your knob is down.
In case you want to know, check on how to remove lever door handle Schlage.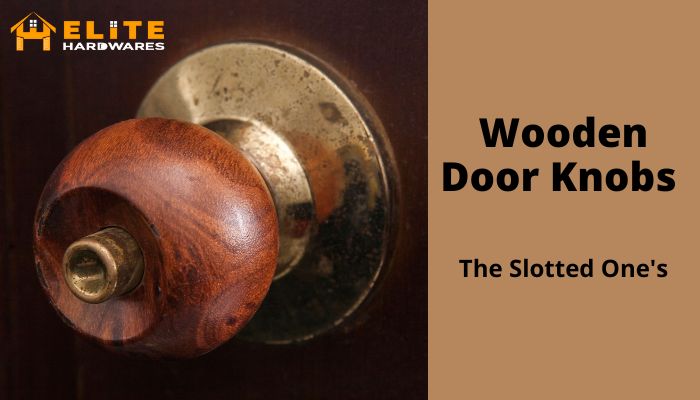 Exception
It's not a mandate that all the wood door knobs have to follow the same style. This means there can be exceptions like an interior door knob or even a door knob without screws and slots either. 
But still, if you're stuck with the door, and need to get out, then "remove door knob no screws no slot" could help you.
How to Replace a Door Spindle?
To replace or repair your door spindle you need to follow some steps, they're:
Removing the knob: Find the screws and rotate counter-clockwise with a screwdriver. When you have one side of the door, the other one should be easy. If you've no screws, then follow the technique above in Slotted Knobs.
Pulling out the spindle: After pulling both door knobs out the spindle will be a piece of cake, just grab and pull. Though in some cases you may need to undo some screws before pulling out the spindle.
Re-install the spindle: Now grab the old spindle and run to a hardware store or a locksmith and collect a matching new spindle. Next, add some lubricator, check all the parts manually, and then reinstall it. You can even repair the old one and then install it.
Put all together: Now you need to place your knob back to the door. Start with one door knob with the spindle and then place the other one from another side of the door. Place the screws and rotate clockwise and your problem is fixed. 
Frequently Asked Questions
What Is Door Knob Spindle?
A door knob or handle is a mechanical body that helps to open or close the door. It generally consists of a metal rod connecting both sides of the door.
How To Remove A Door Lock Without Key?
Let's assume you have lost your key or left it inside or else and now want to remove the lock. To remove the door lock without a key, you won't need any other person if you follow some steps. 
You can do this from either the interior side or exterior side. Thinking of some video tutorial could be helpful, right? Here you go
Final Words
So far we have discussed how to remove a door knob that is stuck along with a few relevant topics. Here we did try to cover all the necessary details to help you solve this specific problem by yourself. If you feel trouble with a door hinge pin, our guide can help you. Last but not least always prioritize safety measurements.