5 Steps to How to Adjust Your IKEA Besta Hinges| EliteHardwares
IKEA Besta hinges are one of the finest quality hinges you can get on your cabinet doors. It's natural to face some maintenance issues on it. Therefore you need to go through an adjustment process for it. 
So if you know how to adjust IKEA Besta hinges, it would be easier to do it by yourself. 
Over time you may need to adjust things like tightening the loosening screws, up and down movement, right or left movement, in or out movement, and testing. With these minor adjustments, you can fine-tune your IKEA Besta for Long-term use. 
Keep reading to know the 5 step by step processes of adjustment of your IKEA Besta hinges.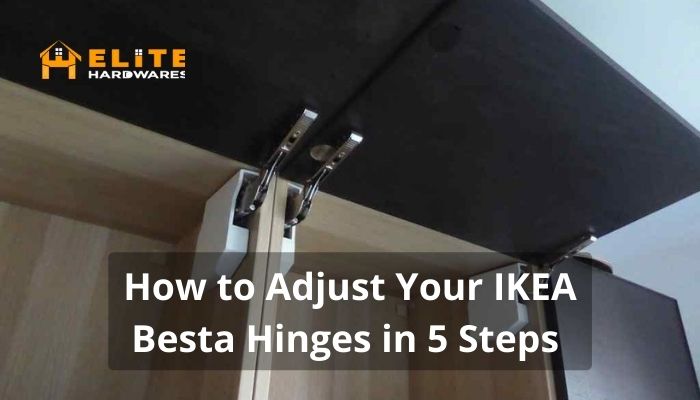 Why Do You Need Adjustments on Your IKEA Besta Hinges? 
IKEA Besta Hinges are great to use on your cabinets. Hinges are a kind of mechanism that allows you to open and close easily and smoothly. After frequent use, it may come up with some maintenance issues you can tackle by adjusting. However, you need an adjustment on your IKEA Besta Hinges for the following reason-
If you notice a gap on your Besta hinges door
If you identify unstable movement on the door
If the door parts get loose
If the movement gets tough
If your Besta Hinges make noisy sounds
In case of any other minor issues on the hinges
How to Adjust IKEA Besta Hinges Easily in 5 Steps?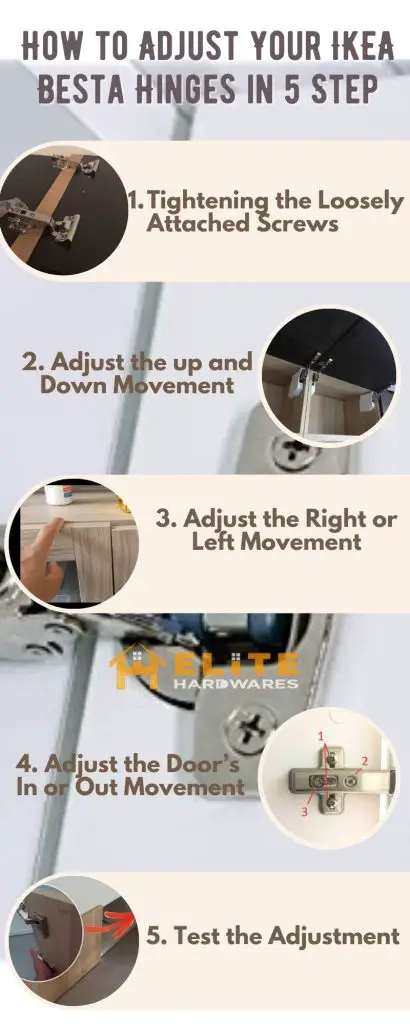 If you notice that your Ikea Besta hinges are getting loose after a period. You need some adjustments on the hinges. But how do you tighten Ikea hinges? No worries follow our 5 easy steps to adjust it. 
If you like to learn from videos then check it out:
Start With Tightening the Loosely Attached Screws
Open your Ikea Besta cabinet door and find out where the hinge is attached to the door. You will see two screws on the top bottom part of the hinge mounting it on the cabinet. Tight the loosely attached screws on the hinge. If the screws are loose it will not give you a perfect closing or opening.  
Know more details about how to tighten door hinges of all types. 
Adjust Your IKEA Besta Door Up and Down Movement 
Check your IKEA Besta Door up and down movement. It is necessary to correct the movement of the up and down arrows. You need to find out the oval holes to adjust the hinges. 
Loose the mounting screws slightly and slowly to get the proper position. Check it by closing the door if the Up and down are not evenly then make it even. 
Adjust the IKEA Besta on Right or Left Movement 
You need an adjustment on the side right or left movement as well. If the cabinet edges are not even in the right or left then fix it. For this, you need to work on both hinges. Move the cabinet door slightly left or right by loosening the screws.   
Adjust the Door's In or Out Movement 
You need to check whether the in or out movement is ok or not. Over time wooden doors can warp out due to the complex weather condition. Adjust the top hinge of the cabinet side and the down hinge of another side. If there is a gap, try to do the reverse to remove it.  
Test the Besta Door for Additional Adjustment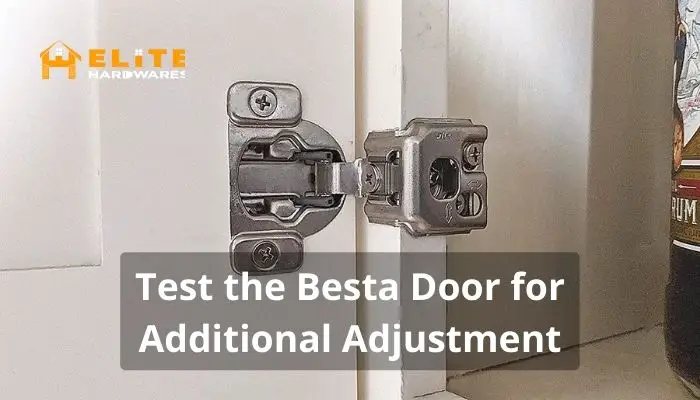 You need to test the door adjustment again and again. After each minor adjustment, you need to ensure that it's working properly. Otherwise, the problem can be raised by the wrong adjustment process. Try the trial and error method for a fine tune on your IKEA Besta door.  
Additionally, know how to install butterfly hinges on your cabinet and doors.
Understanding the Hinge Mechanism 
To get a perfect adjustment on your Ikea Besta hinges it will be better to understand how do IKEA soft close hinges work.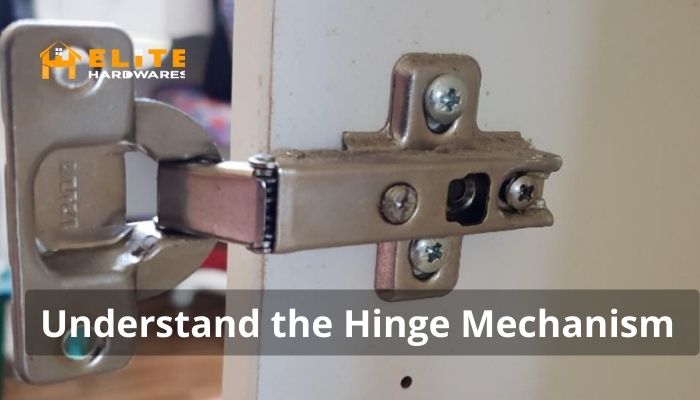 IKEA hinges provide a connection between the cabinet door and frame that allows limited rotation. By this mechanism you can easily open or close your IKEA cabinet door. 
By connecting two plates via a mechanical bearing, a hinge serves as a connecting joint. Two objects can rotate relative to one another by moving the pivot about its axis. 
As hinges are restricted to one degree of freedom, they can only be translated or rotated 180 degrees. Flexible materials or movable components can be used to make IKEA soft close hinges. 
FAQ'S
How Do IKEA Besta Hinges Open the Door?
IKEA Besta hinges use a soft closing mechanism to open your cabinet door. Due to this mechanism on the door movement, you don't need any knobs or handles to open or close it. It allows you to close and open it smoothly and silently. 
Why Don't My IKEA Besta Doors Close Evenly? 
If your IKEA Besta doors are not closing evenly then there is a problem with the door hinges. You need to check if the hinges are getting stuck or in trouble due to any reason. However, you can solve this problem by adjusting your door and hinges. 
Are There Pre-drilled Holes for Hinges on Your IKEA Besta Door?
IKEA Besta comes with pre-drilled holes. That you can easily adjust and mount the hinges to use it. You do not need extra hassle like drilling to install hinges on the door 
How to Make Your IKEA Besta Door Hinge Smooth? 
You can apply grease on your door hinges or spray lubricant on it. It will make the hinge more smooth and prevent from producing annoying sounds during closing or opening. Therefore you should choose a rust-proof metal lubricant to use on your IKEA Besta. 
Final Thoughts
If you know how to adjust IKEA Besta hinges, you can fine-tune your door. With the proper adjustments and maintenance, you can increase your IKEA Besta door's lifespan. However, knowing these minor adjustments and fixing skills will save your time and cost of repairing and replacing. 
Therefore you can do these small tasks without any help or experts. Following the step-by-step guidelines will make the task easier. And you can finish it shortly by saving your time.