(Fixed) Screws Stripped In Door Hinge
It certainly does not require buying any special kind of wood or material to fill up the spaces left by screws stripped in door hinge. Even while it may seem impracticable, little pieces of wooden dowels can cover those holes without a second thought, and the change is not even noticeable.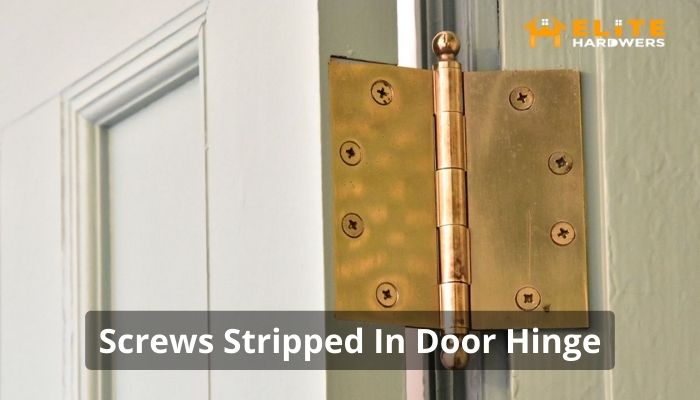 To fix it, a drilling machine with multiple sizes is a must-required item since one of the drillings will pass through the stripped holes to insert the dowels. On the other hand, a smaller drill will be needed to drill through that same dowel, which is where the screws will be placed and ensure it isn't loose.
In addition, while restoring stripped door hinges, the procedure of utilizing wood glue and then clipping the surplus portion of the dowels with jigsaw or wood cutting tools are used.
How to Fix Screws Stripped In Door Hinge
The door hinge has stripped screws, which is why you are having so much trouble with it and wondering how you fix a stripped screw hole in wood?
What more can you expect from a door that is at least a decade old and whose screws can no longer hold the weight, resulting in a larger hole that becomes increasingly annoying every time. 
On the other hand, repairing them isn't difficult and can be accomplished with little to no skill and a few simple tools. However, if you are thinking of tightening the screws with a screwdriver as a solution, then this will not work for stripped screws in the door hinge.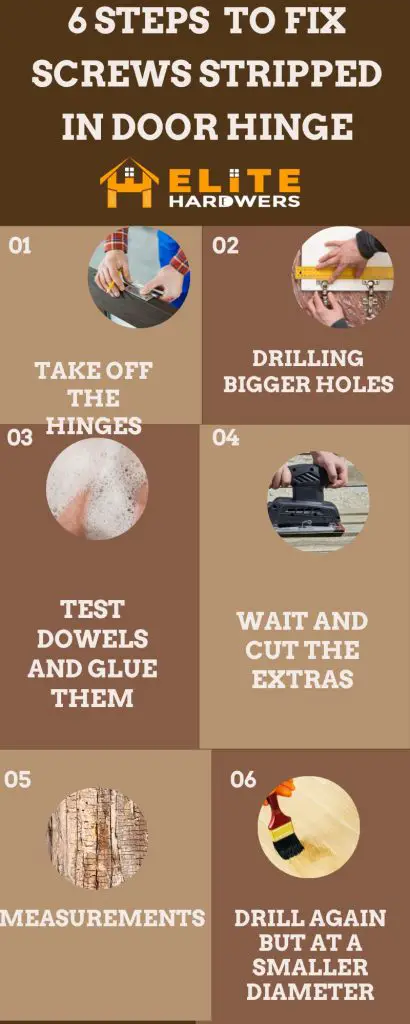 Step 1: Take off the hinges
To begin, you'll need to remove the hinges from the door. To do so, take a screwdriver and open the door wide. Insert the screwdriver into the screws, then turn it counterclockwise until the hinges fall off.
Step 2: Drilling bigger holes
You may be thinking why you would even bother drilling bigger holes when this has been the issue all along. It's for the wooden dowels to be able to fit in. Take the driller's inches according to the size of your dowel, but make sure you have another one that is smaller than the one you'll be using. In the next steps, you will discover why.
Step 3: Test dowels and glue them
The next step in how to fix squeaky door hinges is to test the dowels before you attach them simply. Insert dowels in each of the holes and make sure that they perfectly fit. However, make sure that the dowels are not too tight and that there is enough space for the coated dowels to be put in the drilled holes. 
Simply mix wood glue with each dowel and insert it into the holes after you have perfected your measurements.
🚪 Read More: Best Routers for Door Hinges – My Top 6 Picks
Step 4: Wait and cut the extras
After waiting at least 20 minutes for the coated dowels to dry, you'll come across extra dowel edges that don't appear to belong there. A woodcutter would be required to remove them.
We usually recommend a jigsaw for this, but you may use anything you choose. All you have to do now is trim the excess and double-check that the dowels are plain within.
Step 5: Measurements
It's time to start taking measurements. Take precise measurements with a pencil while holding the hinges on the door frame. You can generally wiggle your way around the hinge slots.
Step 6: Drill again but at a smaller diameter
As previously stated, you should already have a driller with a smaller diameter than the one you used here. Take the one and begin drilling over the wooden dowels that have been designated. When it's finished, you're done here as well. All you have to do now is reinstall the door in the same manner as it ever was.
Fixing A Stripped Screw Hole In A Hollow Door
We are prepared with the answer before you even ask us how do you fix a stripped screw hole in a hollow door? The first thing to note is that this is similar to fixing a stripped screw from a door hinge, except it requires less effort.
You should double-check your door before accusing it of being hollow. However, after you are sure that it's a hollow one, let's check how to fix it in three simple steps.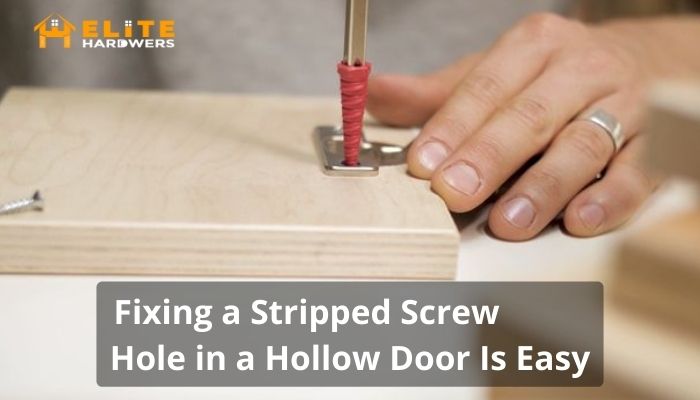 Step 1: Sandpapering the surroundings
To begin, grab a piece of sandpaper and wipe it around the holes. It is done to ensure that your faulty layer of wood is removed, as well as to give the door a fine texture and finish.
Step 2: Wooden dowels and glue
You'll need a couple of appropriate-sized wooden dowels and some wood glue for the second stage. Put the dowels in the hollow holes after mixing them with the wood glue and wait for some time. Cut the remaining pieces of the dowels that don't dissolve with the door with a jigsaw afterward.
🚪 Read More: How to Mortise a Door Hinge with a Router? (Step-by-Step)
Step 3: Sandpaper and paint
Lastly, you need to give your door a finishing touch with some sandpaper again and some paint. Gently give your door a polished look by rubbing some sandpaper and using the same color as your door to paint over it. That's it; your hollow door has been fixed.
However, it should be noted that you cannot reinstall the hinges on the same region that was hollow. You might be able to fix it this way, but you won't be able to cure the region permanently. As a result, placing them in different spots will be the best option.
Nevertheless, even though the pin door hinges can be said to be a bit backdated, some of us are still stuck with it as the pin on it tends to go out of place. And so, how to put pin back in door hinge is something for another day. 
Conclusion
To conclude, there's no way you will be worried again if the screws stripped in door hinge problem occurs again. Making sure you take the right-sized drilling machine to match your dowels is the most crucial thing to keep in mind, as you will be stuck without it. 
Furthermore, it is fully optional, yet, sandpapers can be used to get a smooth edge. It will not only make everything appear nice, but it will also keep things flat, so you can do your work efficiently.