Types of Hidden Cabinet Hinges You Should Know to Use
Cabinet hinges come in two variations, hidden and exposed. The hidden type is the latest and smart one which comes with a few types. There are also other types of hidden cabinet hinges.
Three distinct types of hidden cabinet hinges are there. They are full overlay, half overlay, and inset concealed hinge types. The full overlay allows to reveal the maximum length of a cabinet door joint, and the half overlay is used on two doors at a time. The Inset hinge comes with an outer face on the edge of the cabinet.
Let's talk about the hidden hinges cabinet and its type. This will give you a clear insight into them.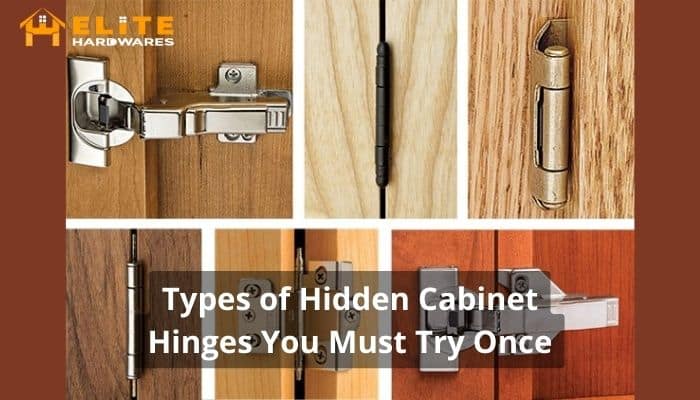 What is a Hidden Cabinet Hinge?
The hidden hinges in cabinets are invisible when installed. The nature of the hinges brings such a name for them. It is a simple mechanism of 3 parts, hinge cup, hinge arm, and mounting plate. You can call it concealed hinge, european hinge, or cup hinge. 
Modern cabinets mostly come with hidden cabinet hinges, but it doesn't mean you can't use an exposed hinge for your cabinet. Hidden hinges have been used for quite a long time, and it has introduced many extra facilities to keep the competition tight over time. 
Soft-close, adjustable arm, and easy dismount (my favorite) are some of the popular facilities of hidden hinges. 
How Many Types of Hidden Cabinet Hinges are There?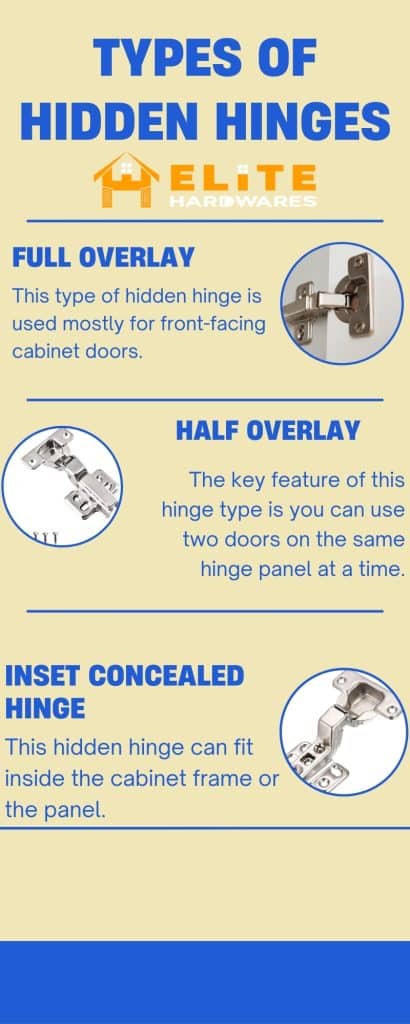 On both the physical market and online shops, you will find a few types of hidden cabinet hinges, which probably have confused you and led you straight here. There are 3 main types of hidden cabinet hinges, they're –
1. Full Overlay
This type of hidden hinge is used mostly for front-facing cabinet doors. You'll find the edges of both doors (backside) and cabinet panels facing each other in a closed position. The Commercial hinges come with mounting plate dimensions, which allow the desired overlay and reveal.
2. Half Overlay  
The key feature of this hinge type is you can use two doors on the same hinge panel at a time. This way, both doors can create an overlay using the cabinet panel's thickness. This type of hinge uses a bent arm and a raised mounting plate. 
3. Inset Concealed Hinge
This type of hidden hinge can fit inside the cabinet frame or even the panel. As it has no overlay, the outer face of the cabinet door glows on the frame surface. These arms are normally bent against the mounting plates and are quite high, which removes the overlay completely.
Few More Variations You May Like
Though I have said earlier about three main types of hidden cabinet hinges, there are still a few minor variations. In case you need in-depth information, be sure to check the following types – 
Knife Hinge: You will find some people also addressing it as a semi-concealed hinge. This hinge type allows you to see a little knuckle at the cabinet door edge with a 9/32" cut at the top-bottom.
Self-Costing Hinge: As of the name, this hinge type closes the door automatically. So, you can just pull and go; the rest will be done. You can use a soft-close device separately from the hinges.
Soft Closing Hinge: The specialty of this hinge type is its dampeners slow down the door speed until it fully closes. You can also use this with cabinet drawers to prevent damage and the sound of slamming.
Free Swing Hinge: Unlike others, these hinges don't close doors. Instead, it holds the door closed mechanically. Again, these hinges open the door instantly as you touch the latch. 
Besides these types, you will also find bi-fold, blind-corner, face-frame, and frameless hidden hinges on the market, which you can use too. 
Why Should You Use Hidden Cabinet Hinges?
Now, you might be thinking why you should change between exposed and hidden hinge types even though they serve the same purpose.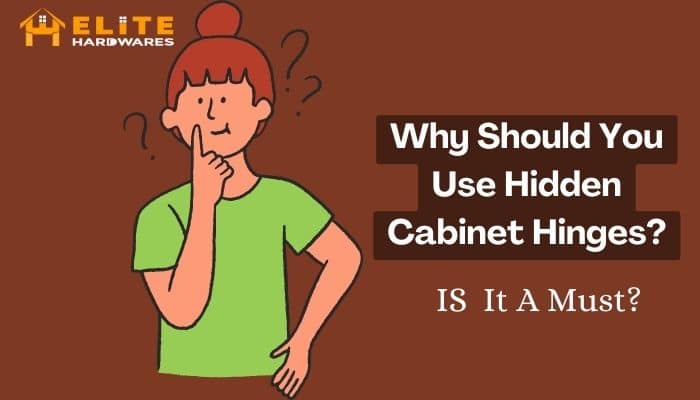 Both Telephone and Mobile can transmit interpersonal conversation, then why do you use a smartphone? Because it's trendy and serves more features than those, if I'm not wrong. In the same way, a hidden cabinet hinge can serve you with more features than exposed types. 
Let me share with you some features of a hidden hinge
More Security: You can hardly tamper with those hinges as all of the parts are hidden inside. If you have some restless kids or curious cats in the house, then hidden hinges are your best option.
Precise Closure: Some hinges have lack of closure accuracy, which makes the person spend a few extra bucks just for some magnets to cover that gap. Hidden hinges can close at a 20° angle and secure a nice closure.
Silent Operation: Many of us dislike the slamming sound of door closure which can be removed for good with hidden hinges. If you are one of the dislikes, then this type is for you.
Easy to Install: By following a few simple steps, you can easily install the hinge on your own.
So these are the key features of many more features available for different types of hidden hinges. I would have gone for the hidden hinge if I were you.
How Do You Choose Hidden Hinges?
Choosing from multiple options has always been a bit messy for me, but I finally figured it out. Hidden hinges are just a category with few extra facilities depending on the type. If you think of learning all of the hinge types and then making a choice, you'll get confused.
All you need to do is just make a list of what category you like most and what features you want along with it. Then go to the hardware store and find the matching hinge types. You can also ask your carpenter or an expert to guide you to the best-fitting hinge. 
How to Install a Hidden Cabinet Hinge?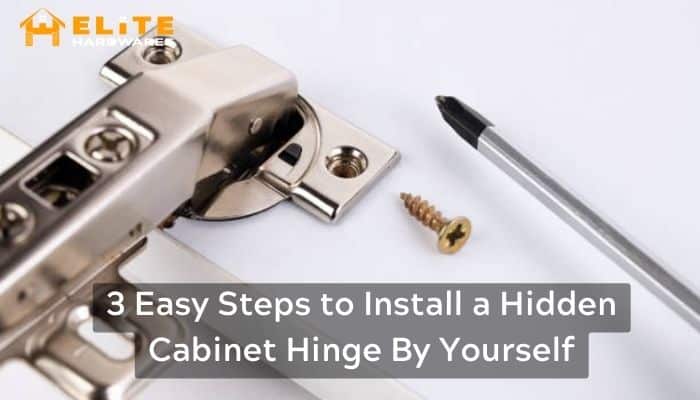 Before you go straight to the installation process, measure the doors' overlay size. There is a pretty good tutorial on overlay measurement you may like.
Again, you need to define how many hinges you're going to need. I want to share a chart to measure the hinge's number.
Number of Hinges For Each Door
Door Size
Number of Hinges
40" (101.6 cm) Door
2 Hinges
60" (152.4 cm) Door
3 Hinges
80" (203.2 cm) Door
4 Hinges
100" (254 cm) Door
5 Hinges
Though the size and hinge quantities are proportionate to a standard, still the weight of the door matters in some cases. So if you think the number needs a change, please contact an expert.
If you miss any of these two steps, then all your efforts can turn into a massacre, and you'll end up with a detour. 
Preliminary Step
If your cabinet has old exposed hinges, then you need to remove them before installing them. Just grab your flat-headed screwdriver and a drill machine and slowly remove them part by part.
Mark the Doors
Now you need to mark a few areas to drill the holes. Here you need to avoid some spots if you previously had hinges installed there. 
Mark a combination square first. 
Then draw a line on the door's backside from top to bottom.
This has to be parallel to the edge of the hinge side. An inset of ⅞" with the combination square is also needed to complete the planning. 
Drilling Holes
If you had hinges installed earlier, the task would have become much easier. If you do it fresh, you must drill some intersections with a Forstner bit. Then, blow some air to remove the dust and place the hinge cap+ mounting plates accordingly. And you're done. 
Speaking of cabinet hinge installment, you can also check articles on how to align cabinet doors with exposed hinges and how to fix a hinge-bound door.
Final Words
So far, I have tried to explain all the major and trendy types of hidden cabinet hinges with all the relevant topics that you must know. Assume that you have learned the definition, types, reasons to use, and how to measure and use the hinges. 
If you think of DIY solutions, then read my article thoroughly again and must follow safety measurements. Do consult with an expert in case you get confused. Best wishes.